National Storytelling Week 2023 (Monday 30th January – Sunday 5th February) provides a great opportunity to explore how stories and creativity can be found everywhere!
Whether through exploring their imaginations, reading books, or experiencing the outside world, children gravitate towards creativity. So why not encourage this on the playground, infusing wonder into every part of your students' day through the under-used medium of playground design?
Help Kids Express their Creativity!
Storytelling can be expressed in a range of creative ways, from writing to music, from acting to art. Our imaginative, creative, and sensory equipment provides playground ideas for primary schools and nurseries to inspire new forms of creativity among children.
Playground music sets designed for stimulating and important musical play can provide a soundtrack to children's imaginations. Students can express their inner artistic storytellers to the world on our giant chalkboard or paint station play panels, or learn phonics and letters in new ways, benefitting their long-term education.
The importance of art in primary schools should be appreciated in any playground design focused on promoting creativity.
Creative play provision is essential for healthy childhood development. This is one of the reasons we at the School Playground Company are proud to promote National Storytelling Week 2023. All children should have the ability to express themselves through art and stories, especially in their free play time.
The benefits learning through play provide include:
An awareness and respect for others
Confidence building
Providing an opportunity for physical activity
Developing communication skills
Build independence
Helps children make discoveries by exploring the world and their creativity
Introduce a Range of Colourful Characters
Playground markings are often ignored in playground design but can provide a huge amount of inspiration for creative play and storytelling. Our playground surfacing designs are made to be hard-wearing and eye-catching so students can have free reign to play and tell stories on the playground.
With just playground markings, kids are free to explore their imaginations: diving to the bottom of the ocean with sea monsters, dolphins; and jellyfish; going back in time to meet a wide range of dinosaurs; or swimming with crocodiles!
We have a huge range of themed playground markings to tell any kind of story on your playground, explore your options and find what sparks your creativity here!
A Quiet Space to Imagine
The quieter side of appreciating stories is also important to provide space for. Outdoor classrooms and playground shelters allow children a safe place to read by themselves, or in groups!
Match your student's imaginative capabilities to their surroundings by bringing imagination into your playground design for seating and covered areas. Children can be transported to Middle Earth by reading Tolkien in one of our amazing bespoke hobbit houses or gather around to hear a fairy tale on charming wooden toadstool seats.
Our range of outdoor classrooms provides creative spaces to experience the joys of reading and storytelling while keeping children secure, warm, and protected from the elements. Waterproof lining on timber rooves and various options for windows and flooring to best suit your playground create ideal spaces for students and teachers to relax.
Embrace Creative Learning
Think about what games and stories you can tell with your students with simple playground designs to keep them active and engaged in lesson time. From 'What's the Time Mr Wolf' to 'Red Rover', we know children love collaborating while learning numbers and an awareness of others. Encouraging this learning through play is a great opportunity to benefit their development in ways they'll enjoy.
But how can play promote intellectual development while still being fun?
Teachers should also express their creativity on the playground and let their imaginations run wild to create new ways for kids to learn! Why not try 'Duck, Duck, Goose' with French vocab words, or Snakes and Ladders with different multiples of 3? Using our colourful, hard-wearing, and fun playground markings can provide a template for a whole range of educational playground games for primary schools, igniting creativity and helping kids have fun while learning!
Our colourful, hard-wearing, and fun playground markings provide a template for a whole range of educational playground games for primary schools, igniting creativity and helping kids have fun while learning!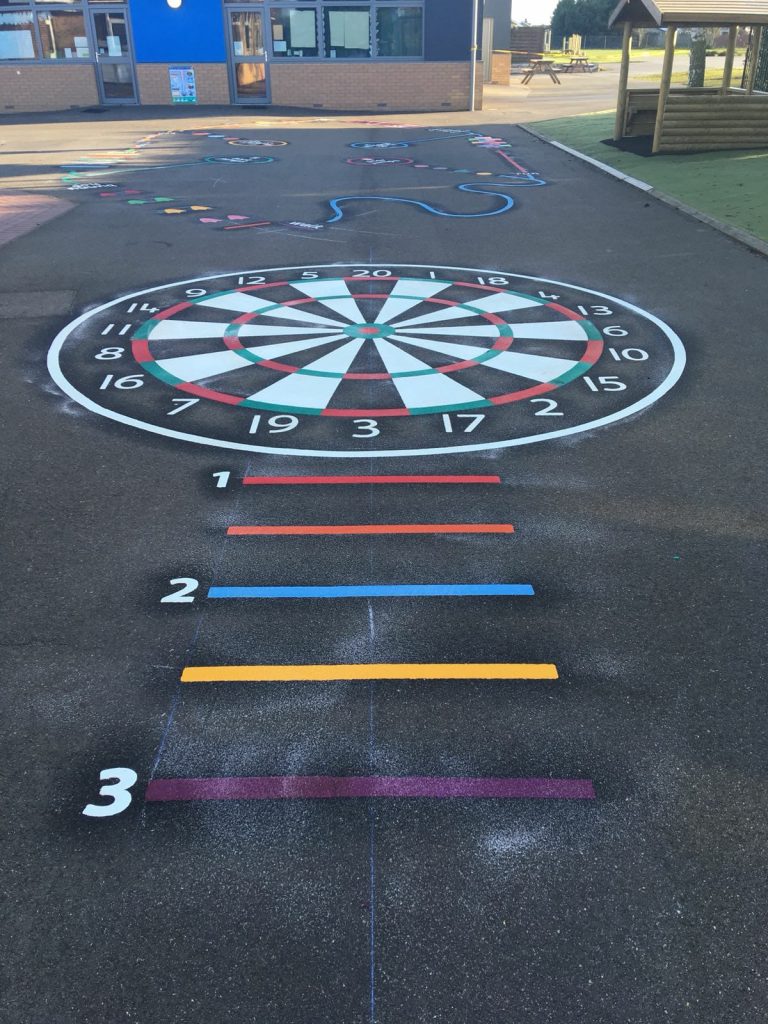 Begin Exploring Creativity on Your Playground with the School Playground Company!
Revamping your school playground space has never been easier than with the expert consultation, installation, and aftercare services provided by our team. For more helpful tips read our World Book Day blog!
If you are looking to embrace your creativity through playground design, contact us today!
Just call 01455412134, email us at info@schoolplaygroundcompany.co.uk, or book an appointment with our handy contact form and our team will be happy to talk you through your options.