About the School Playground Company
The School Playground Company combines educational understanding with over 25 years design experience to create stimulating outdoor learning environments that allow children to learn through imaginative play in an exciting space.
We pride ourselves in working with you and providing a high quality solution, tailored to your needs. Let us get your imagination flowing and make the play space your child deserves.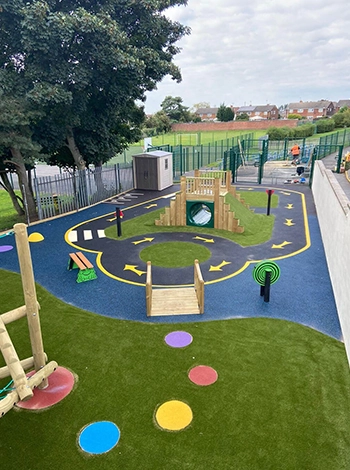 School playgrounds are the ideal place for socialising with friends, playing games and having fun; children learn through play and we've got the new school playground equipment to help them along. Combining our experience and knowledge in educational resources, we offer a range of play equipment that facilitate physical development and formal learning whilst developing social skills and encouraging creativity. Let us create the perfect outdoor play space for your primary school.
If you want to find out more about our work and how we can help you, then contact us. We provide a range of services, school play equipment, outdoor classrooms and sports equipment in order to meet the needs and requirements of every customer, contact us with any questions or queries.
Here at TSPC , we pride ourselves on providing high quality playground equipment and excellent customer service. Feel free to take a look around to see what we have to offer.
We'll come to you! We'll check out the space we can work with
We'll give you a full quote, so you know exactly what you're getting
We'll manage the project, and make sure everything goes as smoothly as possible
We'll make sure to complete the project and leave you happy
We'll continue taking care of your playground even after completion
We provide a range of services in order to meet the needs of every customer, so why not get in touch with any questions or queries.