Explore your Imagination in the Great Outdoors for World Book Day 2023
Reading and staying active and engaged outside have amazing impacts on childhood development. From social skills to attention spans, all children can benefit when their school playgrounds encourage a love for books and storytelling!
Let's explore how your playground design can foster learning and imagination with School Playground's amazing World Book Day Ideas!
Benefits of Reading
Encouraging children's love for reading from an early age is the basis of shaping them into passionate adult readers! Teacher-guided or independent quiet reading and storytelling are most easily implemented in spaces designed for this type of learning.
A separation between the busy school life of the classroom and a designated space to read and explore imagination can create special moments of creativity and independence in children. Experts have long found that childhood memories and emotional associations are related to their environments, so providing a cosy and quiet EYFS reading area or primary school book corner is a great way for children to enjoy their reading time for years to come.
Children benefit from reading for enjoyment in more ways than simply basic literacy education in early life, these benefits include:
Improving language skills
Expanding vocabulary
More complex cognitive development
Social skills learning
Improved emotional awareness
Just plain fun!
Inspiring Outdoor Classroom Design
An outdoor classroom creates a safe space for kids to enjoy themselves independently or engage in teacher-led educational activities or creative world book day ideas as a class group. An inspiring, creative, and different design for your outdoor classroom can spark your students' imaginations in new ways, immersing them in the art of storytelling.
Our extensive range of outdoor classrooms for schools is perfect for any plans you have for educational activities, relaxation spaces, or play spaces. All of our school shelters are made from high-quality materials and installed with utmost care so that your students can securely enjoy and explore their love for reading and play for years to come.
Our playground shelter products include:
School Gazebos– Oak timber shelters offer a communal space for discussion and group reading activities away from the elements. Additionally, artistic and educational play panels can be fitted to enhance the space with an extra special dash of creativity!
Playground Shelters and Canopies– The modular timber, Perspex, and polycarbonate spaces are designed to fit specifically into your playground space, adding a protected space without losing the unique charm of your playground design.
Sail Shades- Perfect for the summer months, the various shapes and sizes of these colourful water-resistant canvas shelters can non-intrusively protect your students and their books from the elements.
Shepard Huts, Tepees, and Yurts- Creative, unique shelters for schools can spark the imagination and immerse students in a unique space for storytelling and education, gathering around to listen during Storytime, or choosing their own journey to embark on through reading.
You can find out more about all of these amazing outdoor classroom options in The School Playground Company's comprehensive brochure.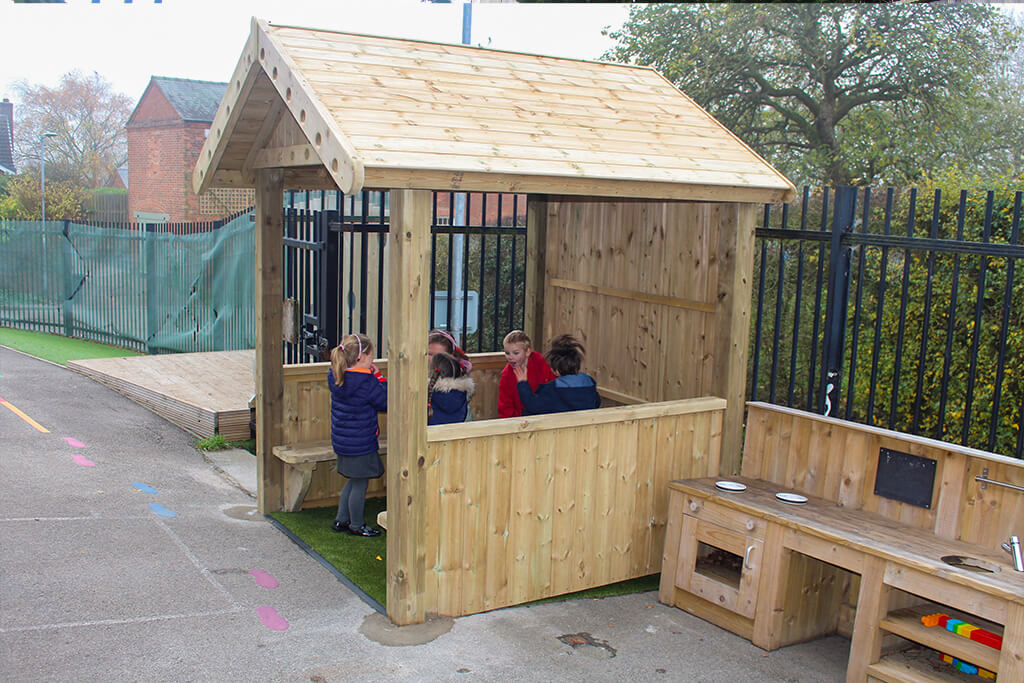 The perfect school shelters for all of your World Book Day Ideas, however, are the most unique of our outdoor classroom options: Hobbit Houses.
Hobbit Houses
Bring your students into the World of JRR Tolkien with our expertly crafted bespoke playground shelters. Complete with circular doors and a rounded half-cylindrical structure, this is a truly unique space to read and explore in new ways. You can even blend the structure into nature with artificial grass, or immerse your students in the fantasy genre with thatched or timber exteriors. The options for this playground shelter are truly endless!
These unique outdoor classrooms are perfect for small group reading or roleplay activities, and one-to-one teaching, especially popular as a special space for an EYFS reading area. Students love having a private space to themselves for reading and developing their imagination away from the formal classroom space. A secret den or hobbit house is perfect to provide this escape into Middle Earth for children to embrace creativity.
Communal Storytelling Spaces
One of the most popular playground ideas for schools with both students and teachers is a communal storytelling space or reading area with a unique creativity to truly create a special experience on the playground.
A themed play area can create a joint experience for your students which can inspire new ways to engage with playground equipment, which can benefit cultural and social development through play. Telling a fairy-tale to children on our rubber wooden toadstool seats can inspire children to make up new roleplaying games, run around as magical creatures, or go on woodland adventures with your themed active-paly structures.
Make play and imagination a collaborative action this World Book Day to help your students develop strong friendships and get creative!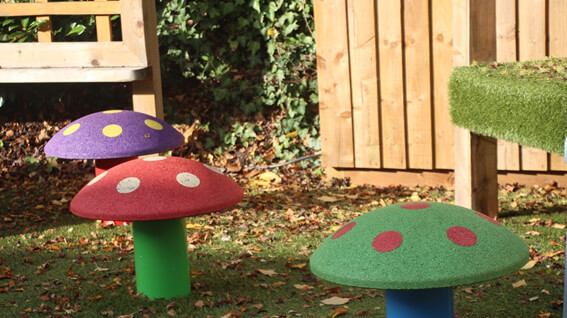 You can discover some of our successful projects to create magical and adventurous storytelling areas and themed playgrounds in our Projects archive. Find your inspiration and transform your playground into a story of its own with The School Playground Company!
Tell Stories in New Ways
A complete curriculum for excellence through outdoor learning needs to consider including art in primary schools as an educational essential. Expressing creativity as a tool to encourage independence and confidence demonstrates one reason why art is important to childhood development. Messy play and artistic play activities help children understand the freedom that imagination and fun can bring!
Questions of how play can promote intellectual development are often on the minds of schools when they begin the playground design process with The School Playground Company.
Therefore, our sensory, imaginative, and creative playground equipment have a distinct design focus on encouraging holistic education for children of all ages. Artistic, educational playground equipment including our giant chalkboards and wordsplay panels make space for personal development through play. These benefits include phonics learning through play, social skills such as sharing and communication, and pattern identification and fine motor skills which assists students throughout their school careers.
Storytelling and independence are key tenants of World Book Day, so why not demonstrate the importance of art and self-expression to your students through literature and other artistic pursuits?
Art and Music
Although not a typical World Book Day Activity, art and music work to help children appreciate and better understand what they are reading. In outdoor lessons why not task your students with creating a song or artistic interpretation of the books they're studying.
Add some variety to their learning with our music sets, giant chalkboard, and other artistic play panels suitable for collaborative work. This is a great World Book Day Idea to encourage deeper consideration of themes and imagery in literature, which can enhance the reading experience and overall love for books!
Theatre
Role-play panels and stages are great playground ideas for schools to let students experience stories in new ways. Encourage a love for acting as well as reading with fun activities involving dancing, improvisation, and working together. Getting children up and out of their seats into the fresh air for drama education is the best way to build confidence in your students through developing an appreciation for acting and different forms of storytelling.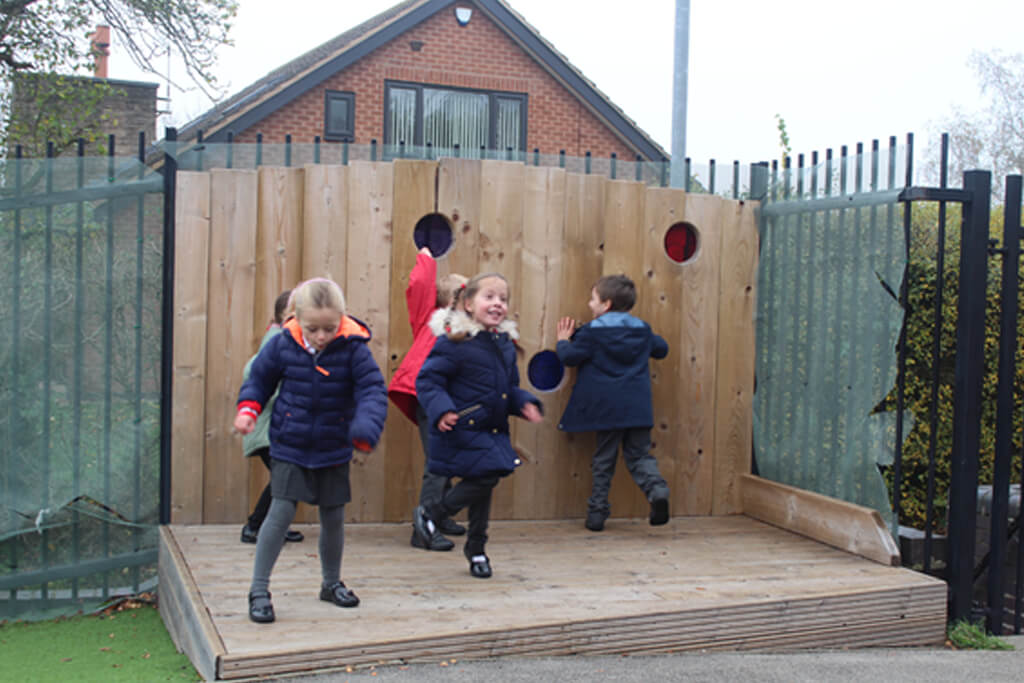 Discover your inspiration with The School Playground Company!
Reading is essential for the playground, but does your school provide the best environment for it? The School Playground Company can help! For more helpful tips read our National Storytelling Week blog.
Just call 01455412134, email us at info@schoolplaygroundcompany.co.uk, or book an appointment with our handy contact form and our team will be happy to talk you through your options.