Enhance Learning with an Outdoor Classroom this Summer!
Outdoor Classrooms for schools are quickly becoming a hugely popular element of playground design, so much that they now have their own day! 18th May is Outdoor Classroom Day, started in 2011 to spread the word about how your students can start benefitting from an outdoor classroom space today!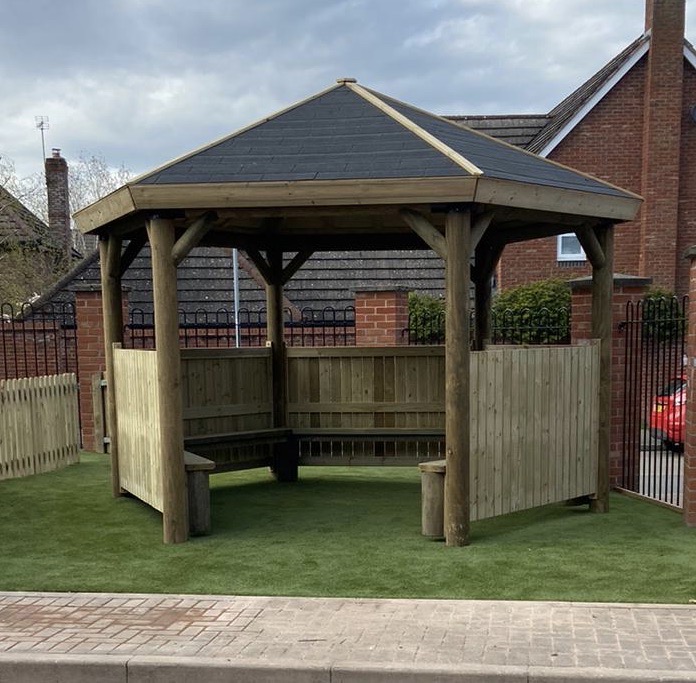 What is an Outdoor Classroom for?
An outdoor classroom may seem to some as simply an outdoor playground shelter to provide sheltered seating on the playground, but they can become so much more with a little professional playground design!
Having a safe, quiet space to relax, learn, and socialise is important for healthy social-emotional growth for young children. Fresh air has been shown to improve concentration and mood, benefitting all aspects of childhood development.
Bringing the classroom outside is a great way to bring more play and movement into your student's school day. Taking regular movement and exercise breaks in lesson time re-energises children whose attention may be struggling in longer unbroken lesson time. All children deserve more time outdoors, and by getting involved in the outdoor classroom movement, your school can join the 10.4 million children who have benefitted from the extra time outside playing and learning since the launch of the Outdoor Classroom Day programme.
Outside Space no matter the Size or Shape
As experienced playground installation experts, our team at The School Playground Company is dedicated to finding you the best outside classroom or school shelter for your school's exterior. No matter the size, space, or theme of your playground, our bespoke timber outdoor classrooms and playground canopies are designed to fit around you and your requirements.
For full details on all of our outdoor classroom design options, take a look at our full Outdoor Classroom Brochure [pdf].
Classic Bespoke Gazebos for Schools
Exploring designs for School Gazebos can open up many different options for your school's unique size and space requirements. Extended gazebos, hexagonal, or square gazebos are brilliant options to create a unique outdoor classroom learning experience. Timber gazebos are open-air outdoor shelters with options for picket fence, wooden clad or trellis gazebo side panelling, decking and different roof or seating designs to suit your space.
Our large extended gazebo options give your classes the ability to bring their learning outdoors, the teacher can address whole classes from the centre or one side of the gazebo, ensuring all students can more effectively see and hear the lesson as they sit around the sides on the gazebo benches and other seating options.
All Sorts of Playground Shelters for Schools
For a fully outside classroom experience on the playground, our school canopy shelters and other freestanding rain shelters are incredibly popular. These space-saving shelter options are an amazing option this summer to provide shelter from the sun without restricting space to play.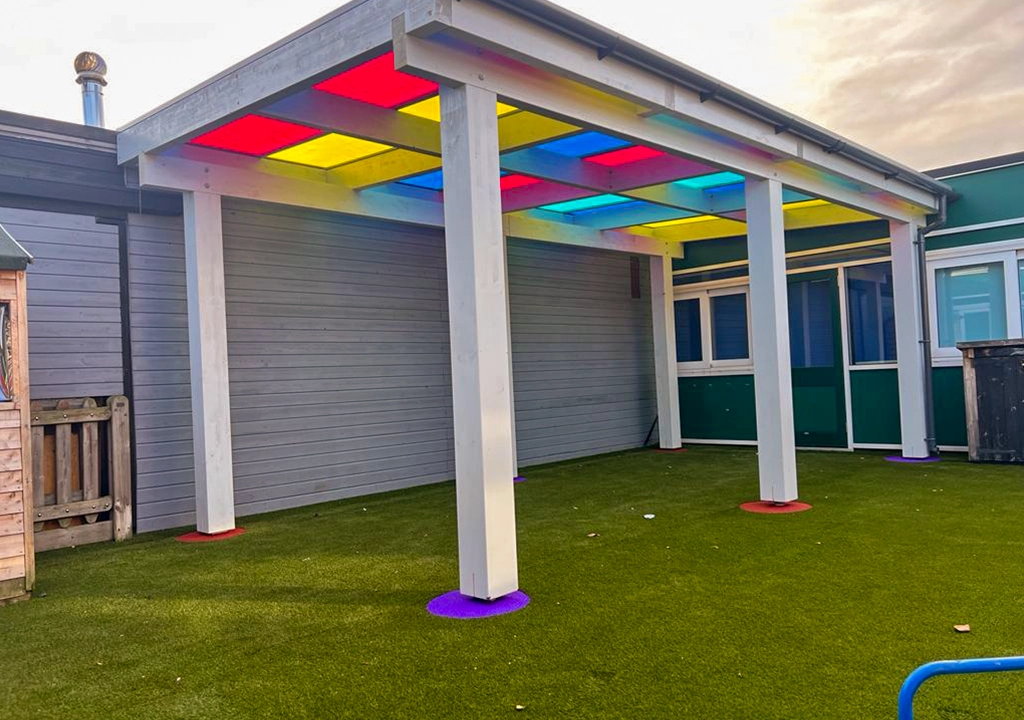 Modular Outdoor Teaching Canopies and Outdoor Shelters for schools are a great way to save space and create a unique bespoke outdoor classroom space. Built for durability, these multi-use outdoor shelter spaces offer a wide range of solutions for your outdoor space, including options for rainwater systems, doors for extra security, windows, and a variety of flat or sloping rooves.
Outdoor Sail Shades protect from any weather the ideal freestanding rain shelters for those unpredictable UK summers. Made from colourful high-quality fabric in triangle, rectangle, or square designs of various shapes with 13 standard size combinations in addition to bespoke design services, outdoor sail shades are ideal for a non-invasive shelter option.
Get Creative and Imaginative
Your outdoor classroom can also create a whole new world for your students to explore and unleash their imaginations on. Shepherd huts, timber lodges, yurts, and even real-life hobbit houses can give a unique outdoor experience that your kids will love. A special space to explore creativity and get stuck in with individual reading or small group work is perfect to encourage independent growth in a special space on the playground.
High-Quality Materials
Our bespoke timber shelters are made from high-quality wood treated with non-toxic substances for a smooth and splinter-free finish, making them perfect for nursery and primary school outdoor classrooms. We use premium PlayGuard Radiata timbers to maintain a beautiful school exterior space no matter the weather.
In addition to Radiata timber, our European Green Oak Gazebo options give you a guarantee of quality over time. This material has natural anti-fungal and anti-bacterial properties to last over time without any chemical treatment!
Our weather proof gazebo roof options feature our unique waterproof lining to keep your outdoor classrooms dry and safe over time. Our shingle rooves aren't your typical shingle option, we use hand-split cedar, oak, or bitumen felt roof shingles! Available in a variety of colours and shapes to suit your design, we will find the option to match the theme of your playground while keeping you nice and dry in your outdoor classroom.
Timber canopies are a great method to keep the rain out, but our Perspex canopy options are also an amazing, creative addition to your wooden shelters. Add brilliant colour and patterns to your outdoor classroom with translucent PETG Perspex or twin wall polycarbonate modular roof panels to perfect your playground design and give your students a unique shelter to bring the playground to life!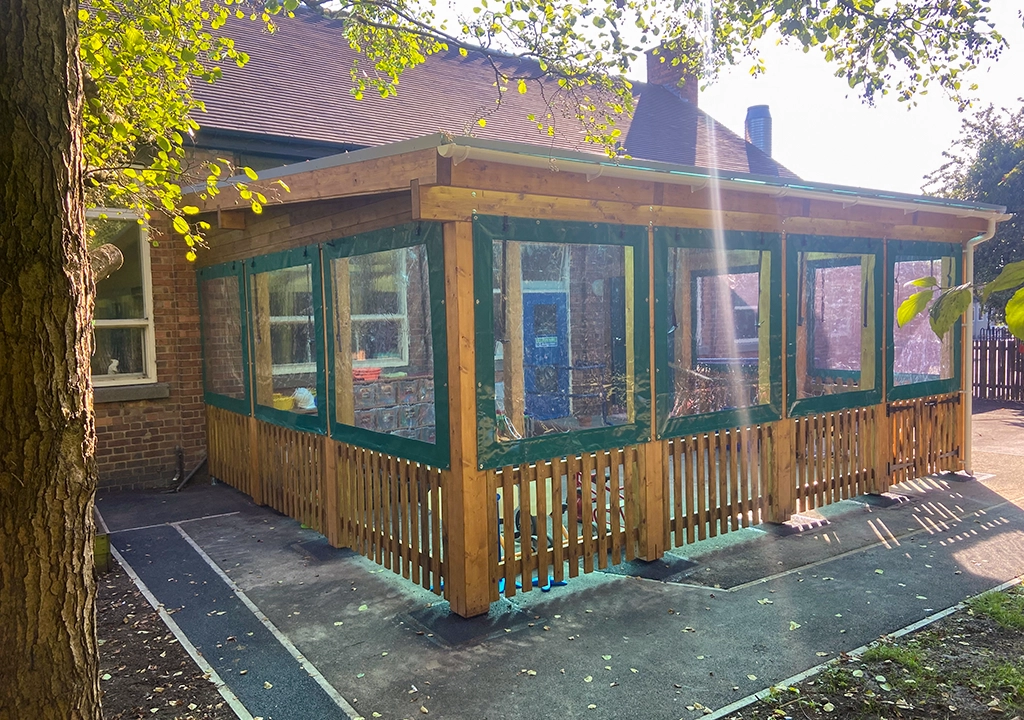 Essentials for Outdoor Classrooms
Play panels
An outdoor classroom is an opportunity to bring a love for play into a safe space on the playground, educational Play Panels and mark-making giant chalkboards and whiteboards are a great way to do this. Outdoor lesson environments are spaces that give students a new experience different from the typical indoor classroom, so why not bring the fun and colourful elements of the playground to further enhance your outside space?
Our play panel designs can be installed on walls, fences and outside shelters with ease, giving you non-intrusive options for adding some fun to your outside learning space.
Decking & Flooring options
Depending on your playground surface options and planned uses for your outdoor classroom, you have a lot of customisable options. In open-air gazebo designs, artificial grass or hard-standing options for flooring help to blend your outdoor classroom further into the playground space.
The School Playground Company's bespoke outdoor classrooms allow for accessibility considerations to be built into the design of any structure. Decking can be given wheel-chair accessible edges and steps for some shepherd hut or gazebo entrances can be altered to provide ramps and widened doorways where required.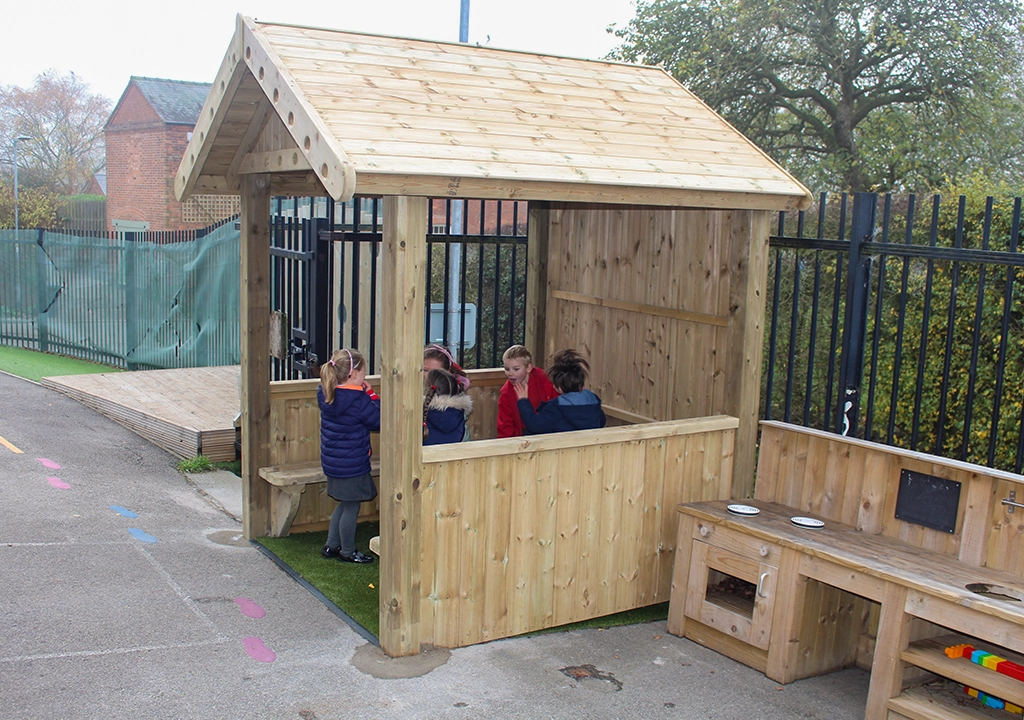 Outdoor Storage & Furniture
Bringing the classroom outside effectively requires easy access to all of the essentials of the classroom. Providing space-conscious storage items which double up as furniture surfaces and even seating areas gives you the freedom to introduce the same quality of learning as usual, to a completely new, outside environment.
Looking to Get Involved in the Outdoor Classroom Movement?
Start exploring your options by booking an appointment or getting your Free Quote with us today.
Simply fill in our handy contact form, email us at info@schoolplaygroundcompany.co.uk or give us a call at 01455 412134 to start your journey with The School Playground Company!