Timber trim trails have been a key piece of outdoor playground equipment in children's play areas for over 30 years. Trim Trails are great playground items to encourage a range of active play education opportunities for all ages through fitness playground games for primary schools and imaginative and varied play.
The design of any trim trail has to provide for a range of active play motions and be appropriate for all ages who may be using the play area. Balance, clambering, and jumping components are part of a flowing playground design in the trim trail structure to create an effective and varied obstacle course that meets a range of play values for all!
Keep reading our guide to Trim Trails and discover which elements of the trim trail are right for you and your playground project and find out more to inspire new activities and games for your playground equipment.
For our guide to even more inventive school playground ideas for different age groups, you can read our expert blog here.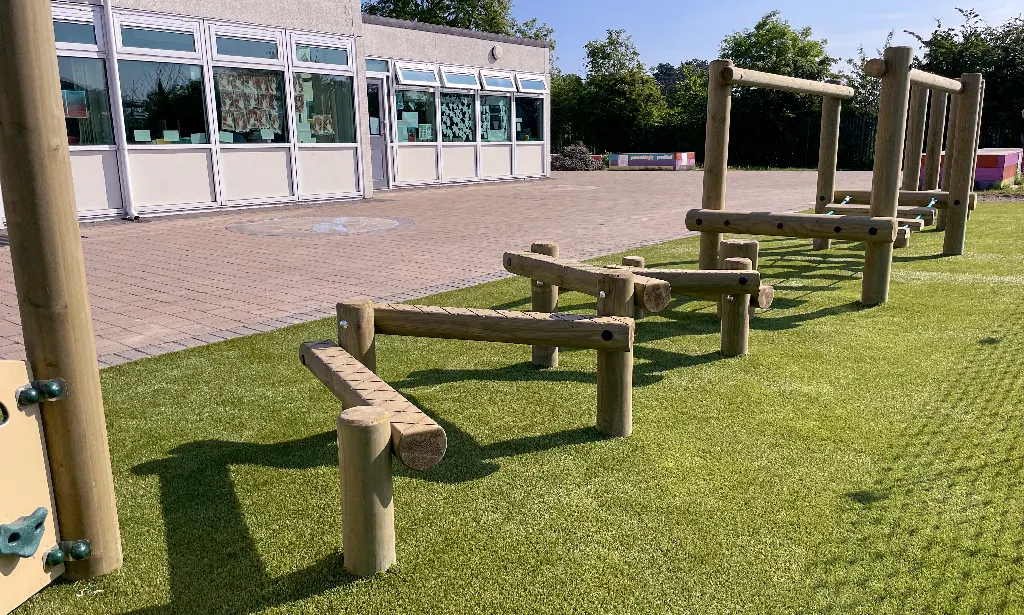 Key Components for Trim Trails
Balance Beams
This basic obstacle element can be installed in creative ways with varied slopes and zig-zag designs to provide a play experience to test the balance of children from even the early years of development. The height of the beam also allows for gentle exercises to be performed, such as stretches, tricep dips, and lunges, perfect for the healthy physical development 5-7 year-olds can benefit from.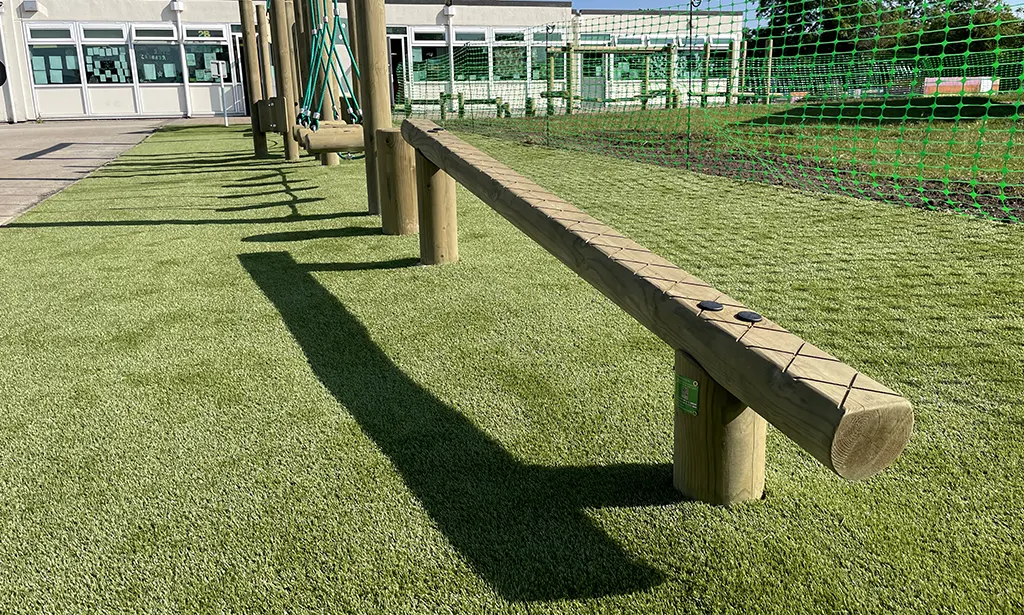 Stepping logs
These round timber play fixtures are able to link different elements of outdoor playground equipment fixtures together as part of the trim trail or adventure trail with a fun activity. This allows children to build their coordination and push their limits in a unique way, jumping and leaping engage different muscles than many other typical parts of active play, so including these seemingly simple trim trail equipment features provides a range of fitness opportunities.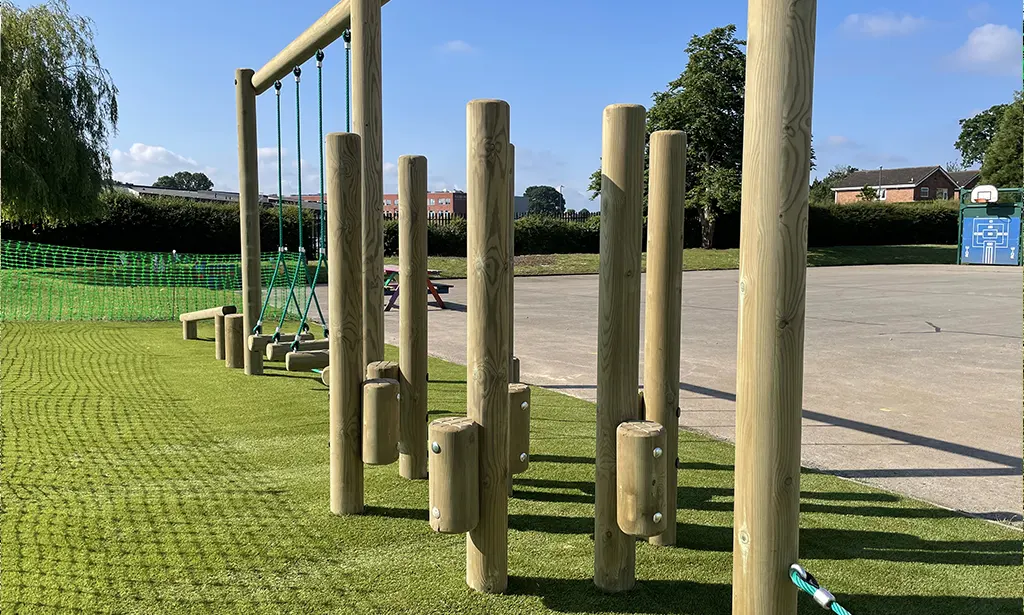 Wobbly Bridges and Timber Walkways
Net and Rope bridges are great to develop gross motor skills and balance, especially for young children. These trim trail components can be customised for bespoke play for any age group, with handrails for early years outdoor play equipment, emphasising safety. Playground bridges can also pose more of a dynamic challenge for improving balance and physical development of 5-7 year olds with the Burma Bridge or net bridge components designed for older kids.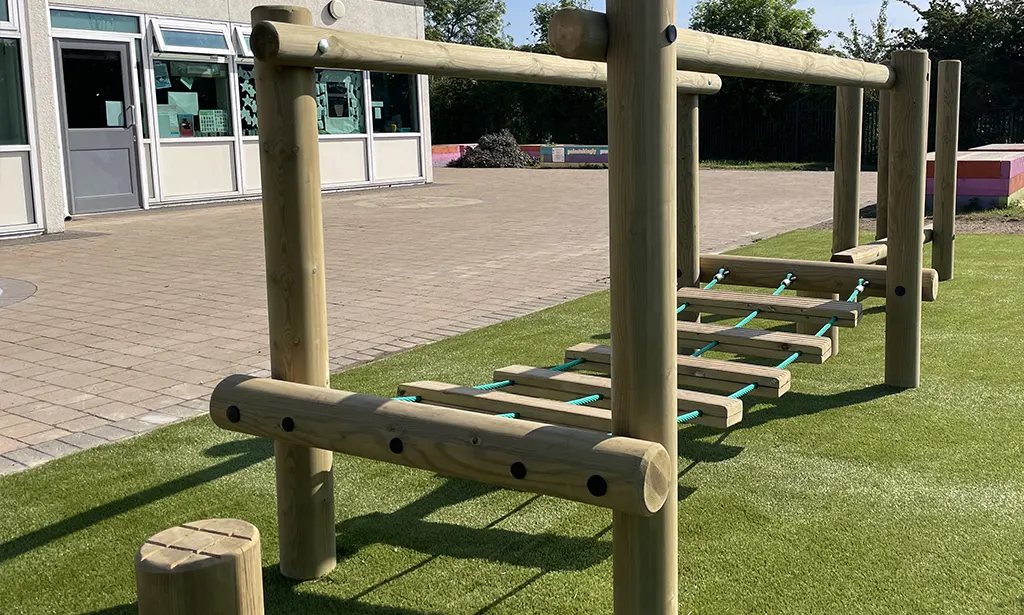 Climbing Equipment
Implementing more challenging components such as monkey bars or hand-over-hand obstacles can become a filter for younger children to avoid more intense areas of the trim trail to improve safety.
School playgrounds for multiple age groups require this consideration to promote safe play while still presenting an opportunity for a diverse array of active play to meet different areas of physical development through clambering, climbing, jumping, and more!
Tunnels
Popular among any age group, this playground item engages with children's natural curiosity to encourage imaginative play and fun while providing variety and activity on many different levels. The design of these net crawl-through tunnels also allows for safe play with full visibility from the outside for full supervision.
Play Inspirations
Time trials on trim trails
Get the blood pumping with obstacle course races and see how fast kids can get from one end to the other. This is a great way to introduce your trim trial to your students and develop their cardiovascular fitness and gross motor skills. It can also be a fun method to introduce early years and nursery students to counting this summer in preparation for Primary School.
Dynamic Storytelling and Imaginative Play
The varied and fun elements of a trim trail set are perfect for encouraging self-directed, imaginative play among children of all ages. Children can either develop their independence and imagination by telling their own stories through active play, or work with others to develop communication and invent a collaborative narrative of adventure. Incorporating Trim Trails into children's play options is sure to inspire storytelling and exploration!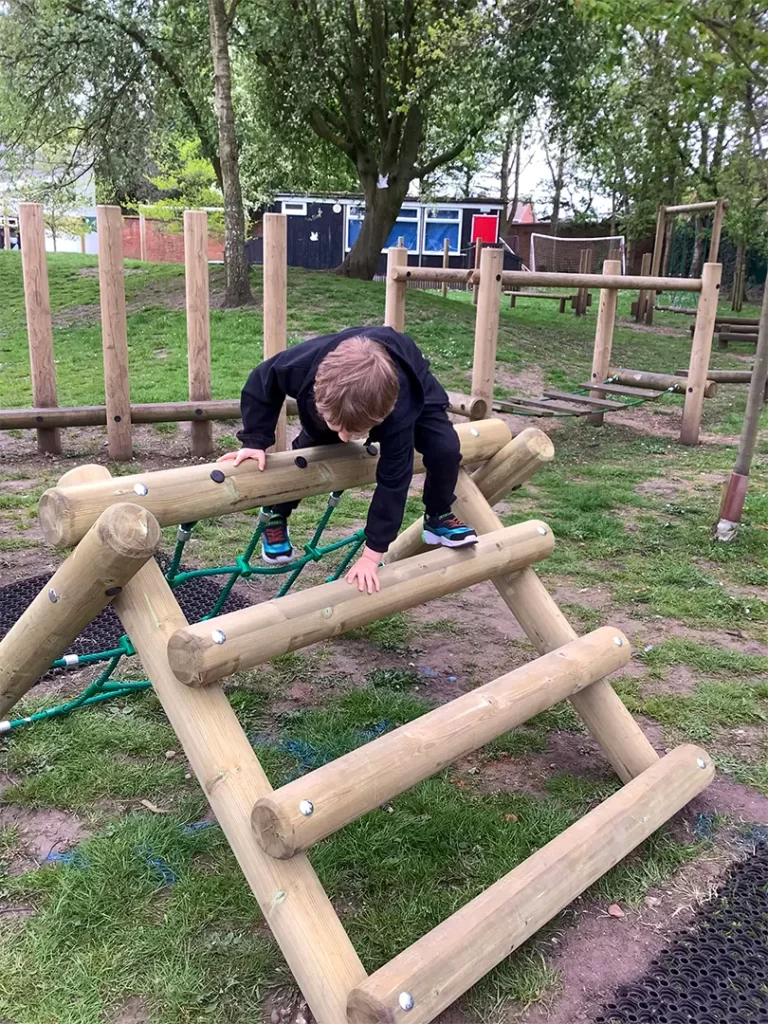 Relay Races
To further encourage collaboration and teamwork skills why not set up a relay tournament among classes on the Trim Trail? Each student can cover a section of equipment each and time how fast they can get through the entire trail compared to other groups. A fantastic idea for a PE warm-up session for a fun team competition!
Safety Assurances
Slip Resistance
The surface of the trim trail timber has a cross-hatch design to remove risks of slipping to reduce risks of falling and slipping. However, in rainy weather, we do not recommend unaccompanied play, especially for younger children or intensive active play activity.
Safety Surfacing
In addition to high-quality playground equipment, The School Playground Company also provides a range of playground safety surfacing options to reduce the risks of playground injuries. Health and safety considerations are top of our priorities for all of our playground installation projects so our materials are guaranteed to be non-toxic, durable, and provide suitable fall protection.
Underneath trim trails, we highly recommend the installation of safe grassmats, rubber mulch surfacing, or rubber chippings for play areas with lower falls. These rubber playground surface options provide a cushioning layer of soft play flooring to reduce the risks of falls that come from active play.
Materials
The best materials for the ideal trim trial are high-quality, splinter-proof treated wood and durable rope and netting. Our expert playground installation team ensures this on all of our playground projects with safety checks and dedication to the best play value possible. We also provide playground repairs and refurbishments to maintain safety for all playground equipment, even if it was not installed or designed by us!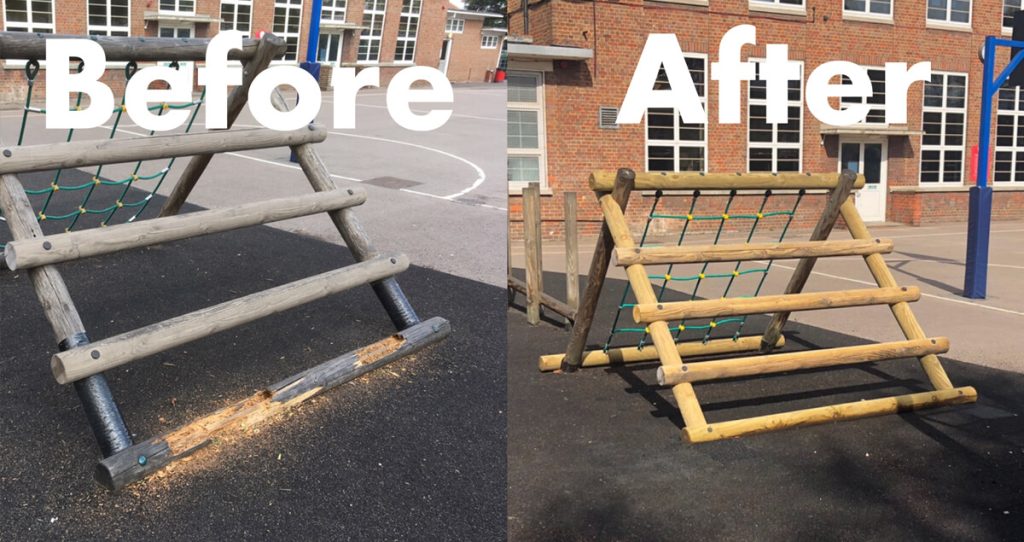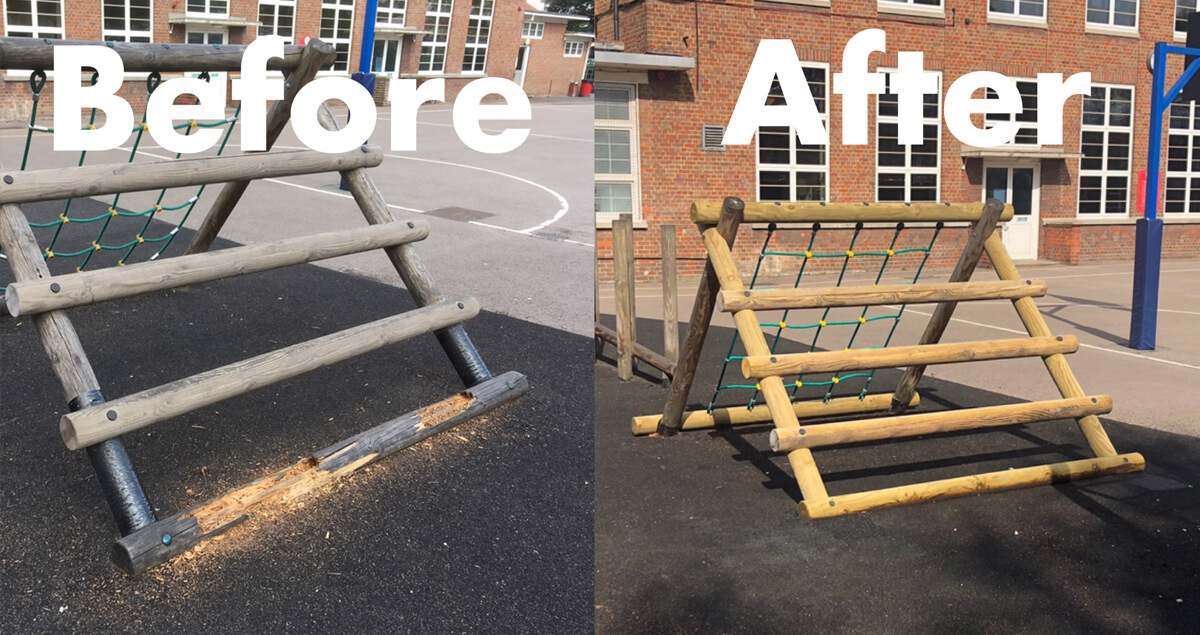 Would your school playground design benefit from a Trim Trail?
You can discover how this amazing playground equipment can fit into your dream playground project by booking an appointment with our amazing playground consultant team or by getting your quote today.
Simply fill in our handy contact form and start your journey with The School Playground Company!