Outdoor play should be fun and engaging for all kids, and it can also have great health and wellbeing impacts. As a dedicated playground equipment provider, we know the best ways to encourage outdoor play for children of all ages.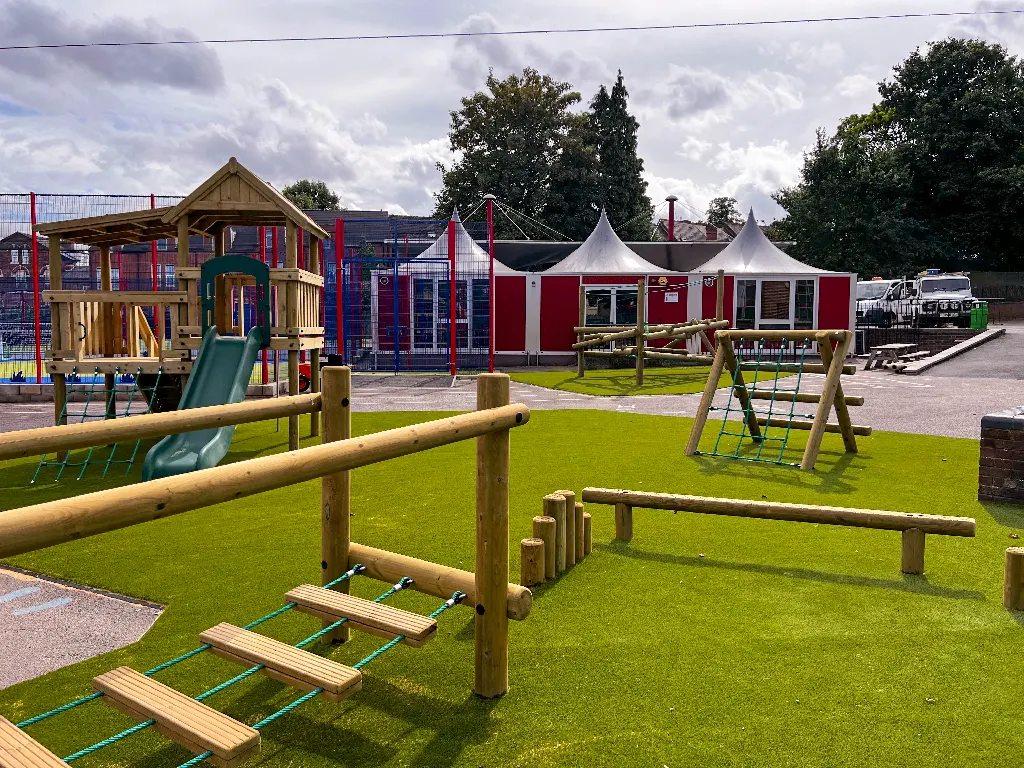 Here are some of the reasons why we and our clients value outdoor play areas so much…
Health Benefits
A dedication to active play education throughout all outdoor learning has been seen to have amazing health impacts. Ensuring playground provision includes different types of exercise and active play equipment is important to meet the requirements of the physical education national curriculum. Studies have found that only around half of children entering the school system meet physical activity guidelines in the UK, improving your fitness provisioning is therefore an essential component of meeting and beating curriculums for excellence through outdoor learning.
Our Outdoor Gym Equipment Ranges can be combined to create Multi Gym combinations that target the movement of the whole body. The Activ8 Multi Gym Combination for example includes the Double Health walker and Slalom Skiers for cardiovascular whole body movement, the double Waist Twister for core flexibility, Tai Chi elements for coordination, and Arm pedal bike for wheelchair-inclusive arm strength. Find out more about our exercise equipment range in our Outdoor Fitness Brochure [pdf].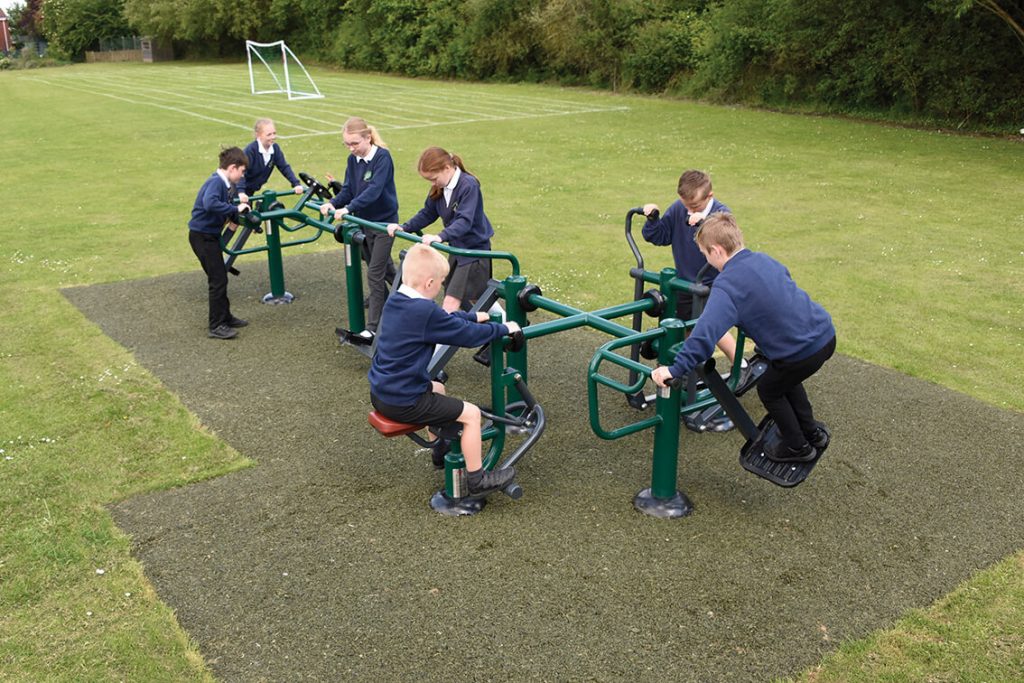 In addition to providing structured outdoor fitness with gym equipment sets, other play equipment that promotes a variety of play values are key to creating a fun and active playground. Aerobic fitness can be developed through any sort of active movement, so why not make that movement fun and appeal to kids and their interest in independent play?
Different types of movement such as running, clambering, balancing, crawling, and jumping engage different muscle groups and involve various gross motor skills which are essential to the healthy development of young people. We recommend installing Active Play Structures to encourage this varied activity in children's free time, extending their physical education outside of structured lesson time through fun!
Versatile and varied exercise is best for the holistic fitness of children of any age, and ensuring full accessibility to any skill level with child-appropriate exercises can create the best environment for healthy development.
Appreciating Nature
Being outside to experience and appreciate nature in early childhood is invaluable to developing a wider understanding of our world.
Especially as Spring is emerging, giving your students wider opportunities to engage in learning outdoors provides a wide range of values to their education and personal growth. Nature play and den-building activities as part of our sensory, imaginative, and creative play products let kids get involved in a hands-on approach to nature and the environment in new ways, educating them on self-sufficiency and creativity.
Nature-based playground design is also an amazing way to encourage play with a curiosity approach in outdoor areas. By giving kids space to play in self-directed activity, you can promote intellectual development in natural ways outside of the classroom, bringing variety into the school environment.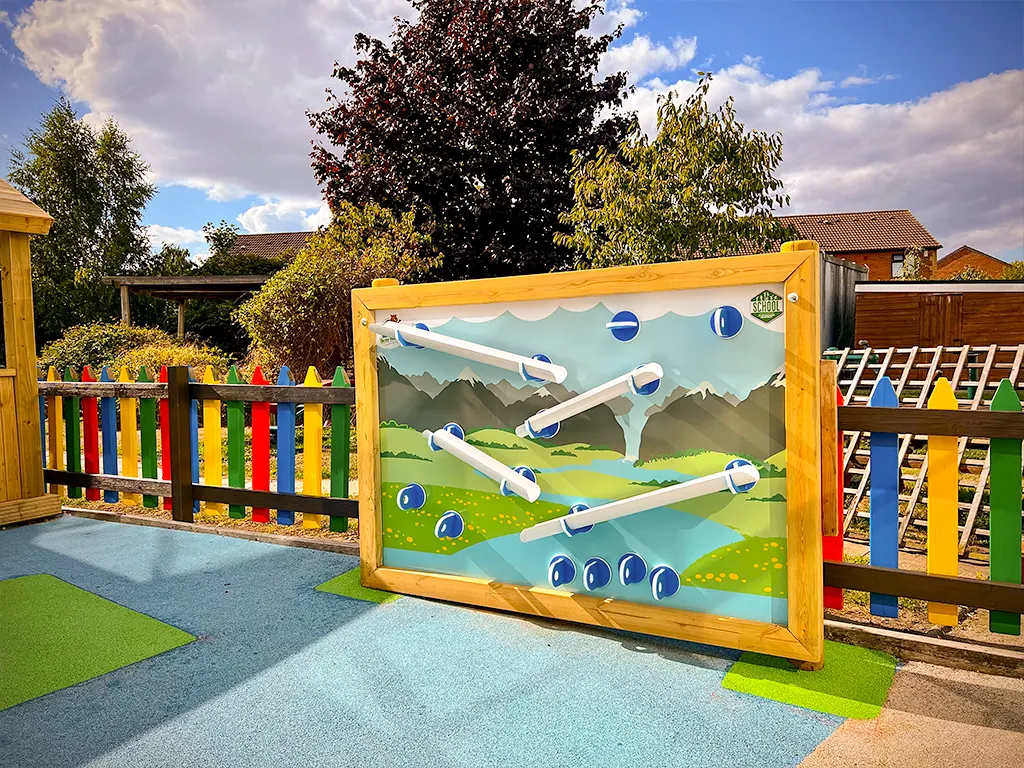 Providing Variety
The world outside of the classroom is huge and varied, and keeping students indoors all day can limit engagement and interest by reducing the variation in their education. We provide many educational play panels and playground games for primary schools and up that use movement, outdoor space, and natural curiosity to maximise student attention.
Moving an afternoon class outdoors can help beat the 'almost hometime boredom' and assist in children's learning through outdoor learning. Providing safe, varied, and exciting outdoor space to play and learn is the first step to expanding the classroom experience into the great outdoors!
Outdoor classrooms can come in many shapes, sizes, and designs to suit your needs, from colourful school canopies, to bespoke waterproof timber gazebos, and much more! Discover your options in our Outdoor Classroom Brochure [pdf].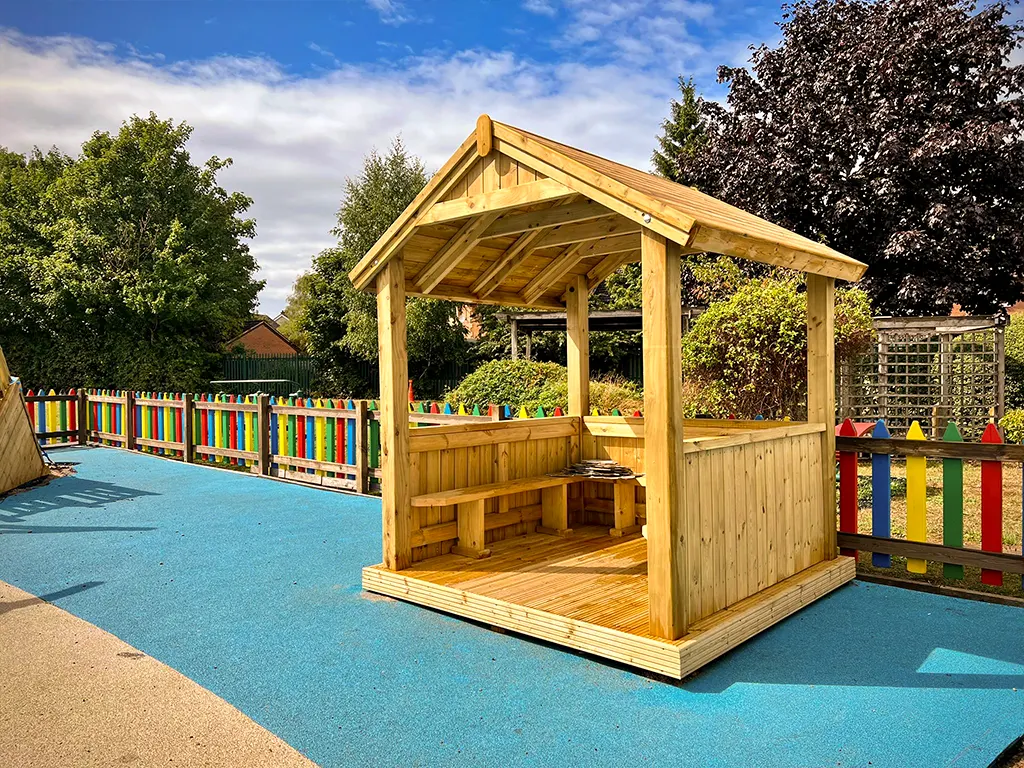 Shelters and outdoor seating areas can create an amazing opportunity for a range of activities for education and fun. Our gazebos come with the option to install our giant whiteboard or chalkboard play panels to carry on your regular lessons in a new space in the fresh air. Other play panels for musical play, artistic expression, and maths and phonics learning can additionally be installed in these spaces, offering students the ability to engage in the educational play activities they wish to.
How can The School Playground Company help you?
Your outdoor space, no matter the size, can benefit from diversity and variation in your playground design. The School Playground company aims to help you provide your students with fun opportunities and equipment to enhance their outdoor play and make the most of their time outside for health, education, and extracurricular development.
If you think our products are right for your playgrounds continue to browse our website or contact us today for more information on how we can help.