Children's physical development is essential in schools as part of the physical education national curriculum. However, it also needs to be considered as core to children's free time through proper outdoor fitness provisioning for active play.
If you are looking for ways to enhance the holistic physical development of your students on the playground, The School Playground Company can show you how to best provide for fun-fit play.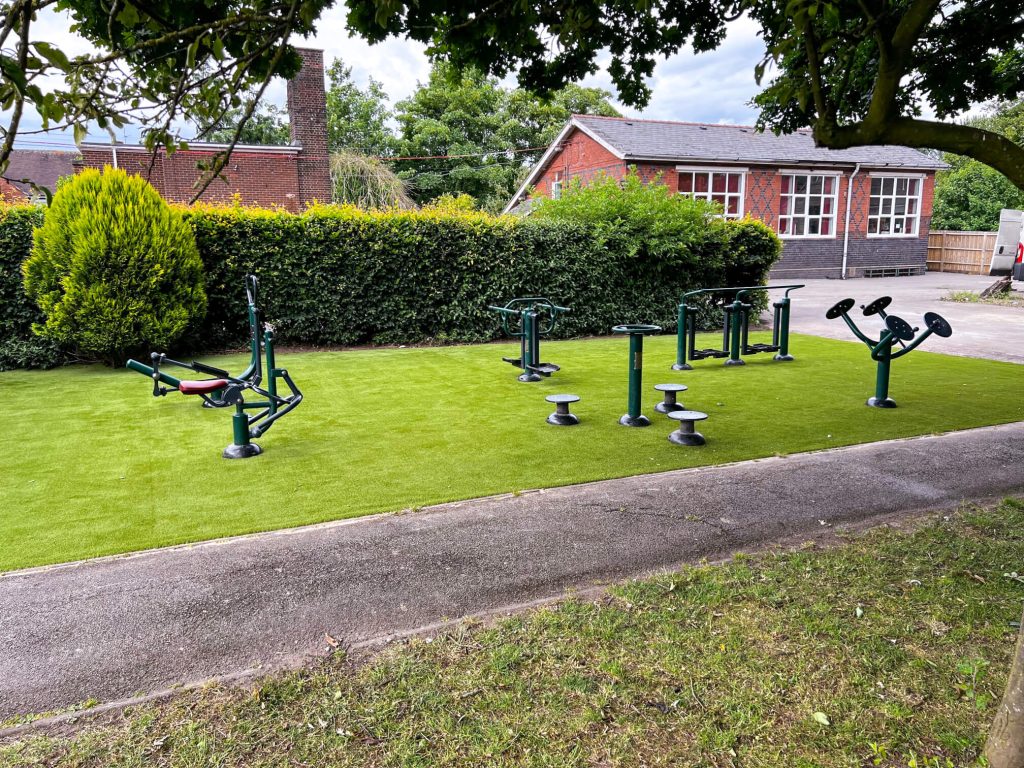 1. Consider Different Exercise Types
To fully appreciate how to best provide in-school fitness, you need a base knowledge of which exercises benefit children in different ways. Ultimately inspiring your outdoor gym ideas in the correct directions for your students.
All of our outdoor gym equipment is designed for child-appropriate exercise and come with our unique safety stop system.
Cardiovascular
Aerobic or cardiovascular fitness is important for all ages to maintain heart health, metabolism, and skeletal strength. Different levels of intensity in activity with the use of varied speed equipment and self-directed exercise with regular breaks make this form of activity accessible to all.
For children and young people, this type of exercise is likely to make up the majority of their daily activity, with running, walking and most sports having cardiovascular effects. Getting moving at a moderate to high-intensity pace engages the whole body and makes for a great basis for a basic outdoor fitness session.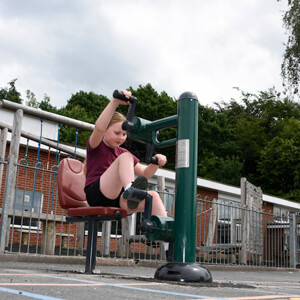 Examples of outdoor gym equipment that assist in cardiovascular fitness:
Horse Rider Simulator
Sky Stepper
Double Health Walker
Arm and Pedal Bike
Rower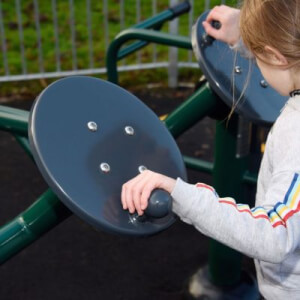 Balance and Coordination
As children grow, you need to provide them with the ability to develop their balance and coordination alongside other areas of fitness. Gross motor skills are practiced through engaging in a range of movements of various intensities and have lifelong benefits on whole body health.
There is a lot of cross-over between general childhood development and an emphasis on balance in fitness. Concentration, spatial awareness, sensory processing, and much more are components of coordination that can be developed through working on balance as a core tenet of childhood fitness.
Examples of outdoor gym equipment that assist in the development of balance and coordination in children:
Tai Chi Discs
Waist Twister
Balance Beams
Double Slalom Skier
Flexibility and Stretches
Maintaining flexibility throughout childhood is one of the core reasons why so much emphasis should be put on exercise in schools. As children grow, muscular flexibility can get left behind, leading to inflexibility and difficulty in movement into adulthood.
Stretching in childhood should be slow and gradual as part of regular exercise movements. Strenuous activity to work out specific muscle groups is not advised for young children, instead, generalised flexibility and gentle stretching is the preferred, safe method for maintaining and improving flexibility.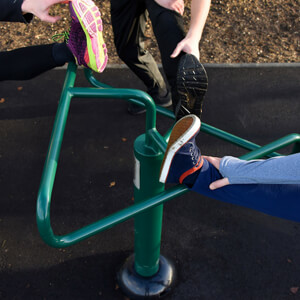 Examples of outdoor gym equipment that use stretches to improve flexibility
Leg Stretch
Double Sit Up Bench
Double Strength Challenge
2. Highlight other Benefits of Outdoor Exercise and Activity
Outside of a focus on individual aspects of health, it is also beneficial to take a holistic view of movement and fitness. By emphasising self-directed Active Play Education and participation in structured and team sports, children learn and experience a lot more than just positive physical development.
Independence and Creativity
Active Play equipment on the school playground encourages an engagement of all different types of exercise through independent play. Clambering, climbing, running, and jumping as part of how children engage in games and play with active play equipment.
Although not typically considered as opportunities for outdoor fitness, active play equipment like climbing towers, climbing walls, and trim trials for schools promote an important element of active play education.
Social Skills
Through joint exercise equipment such as our outdoor gym equipment packages: the Active8 Multi Gym Combination and Energise Gym fitness equipment selections, socialisation is brought into the exercise space. Not only do our gym packages provide variety and choice to your students, but can engage in the fun of healthy competition in a supportive environment.
Team sports are also a popular way to encourage children to work together and collaborate. Multi-Use Games Areas (MUGA) incorporate a range of sports such as football, hockey, and basketball into their sports equipment and marking designs, providing many options for how your students can get involved!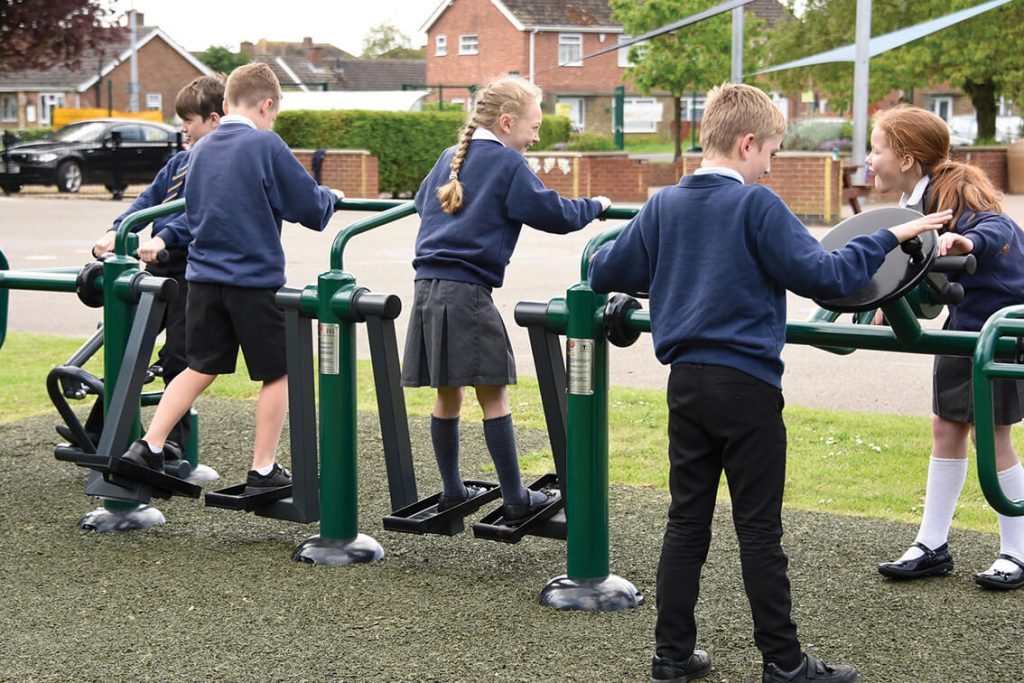 Behavioural Impacts
Allowing variety in children's time outdoors has been seen by experts to help concentration and engagement inside the classroom. Activity produces endorphins which can re-energise your students to learn!
Setting aside some of your classroom time in primary schools for exercise in group programmes such as the Daily Mile scheme, you can encourage a true involvement in sport that helps all aspects of your students' physical and mental health and wellbeing.
3. Follow National Curriculum Guidelines
The Physical Education National Curriculum says that specific requirements must be met for different age groups throughout schooling. Many schools struggle to meet this, but through understanding what kinds of regular exercise children need, you can meet these guidelines and benefit your students' health and development!
All children in primary school are expected to partake in at least 60 minutes of exercise a day. This can be gentle running, team sports, walking activities, and play, putting too much stress on developing bodies in muscle and intensive exercise can be harmful to growing bodies.
For physical development in 5-7 year-olds, the focus should generally be on cardiovascular health and non-intensive fitness. Active Play and running tracks can begin to introduce the idea of sports and exercise as an important part of life in Key Stage 1. Healthy and holistic development of basic strength and flexibility are important to develop gross motor skills in addition to the fine motor skills gained from learning to write, draw, and engage with their surroundings.
From Key Stage 2, more varieties and complexities of sports are important to embed the idea of teamwork and responsibility in young lives, while also engaging in more strenuous exercise. This should not include muscle workouts as this can harm holistic development, but through the use of outdoor fitness equipment for flexibility and core strength can be introduced in addition to continuing a focus on balance and coordination.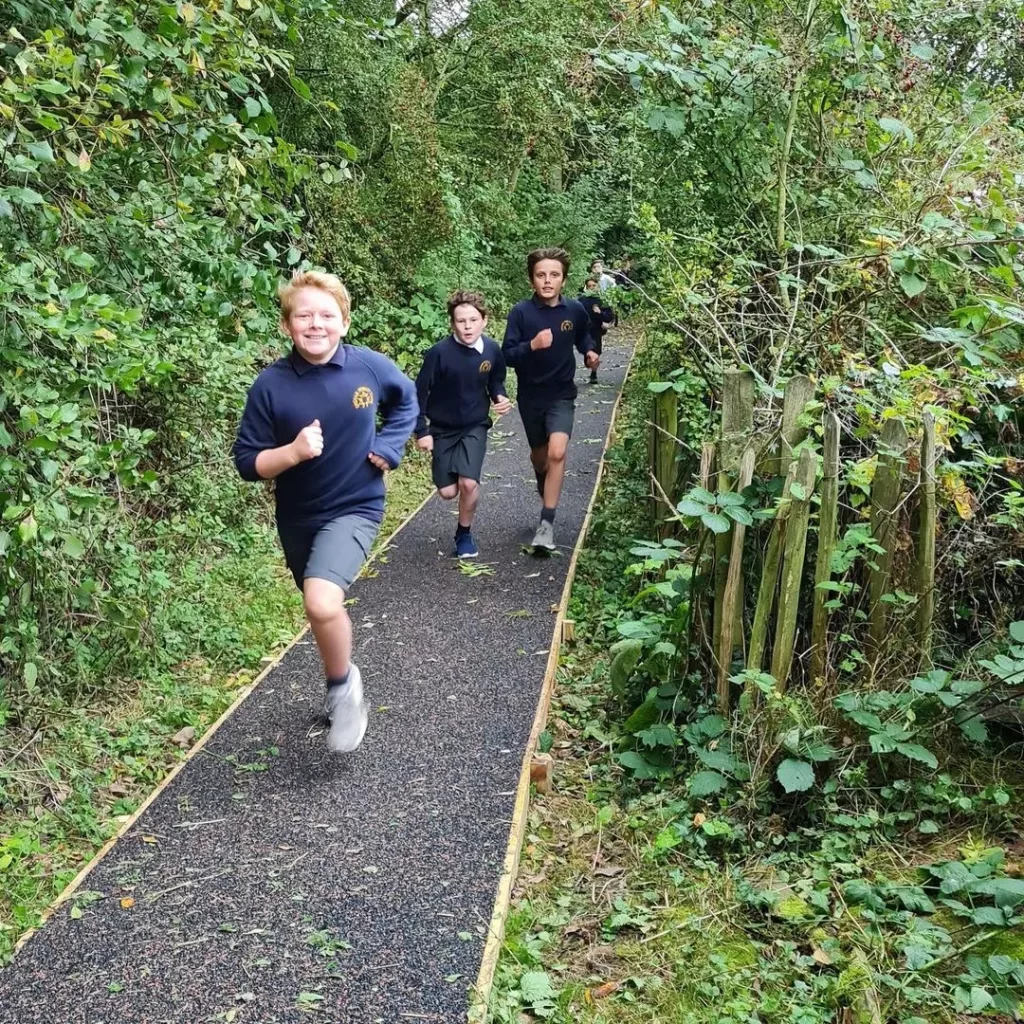 For more on the different play activity requirements of children from nursery through school life, you can read our explanatory blog.
Which Outdoor Fitness Equipment and Active-Play Provisions does your School Need?
Does your school playground have the equipment needed to provide your students with the opportunities for fitness and healthy sports education that they need?
If you think our products are right for your playgrounds continue to browse our website or contact us today for more information on how we can help.