Keeping our children healthy and happy on the school playground is at the forefront of the School Playground Company's mission.
We are proud to provide premier playground equipment, safety surfacing, and playground repair to support kids' healthy development and keep them safe and secure in their play!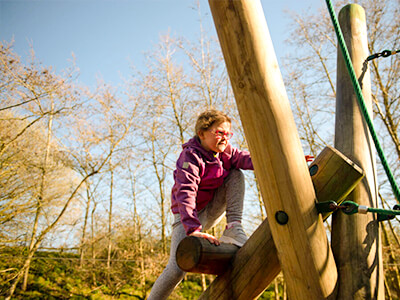 Physical health guidelines
In school playground provisioning, keeping an eye on the health and development of children is an important consideration.
Promoting physical development in 5-7-year-olds is a vital stage to introduce a love of exercise which stays with kids throughout life. One of the best playground ideas for primary schools is to provide children with the option to run, jump, and clamber through self-directed play with a range of playground equipment.
We agree highly with Ofsted's statement:
"A high-quality physical education curriculum … should provide opportunities for pupils to become physically confident in a way which supports their health and fitness"
Regular exercise is proven to reduce stress, and promote inclusivity and sociability, in addition to the benefits to physical health and gross motor skills. Using your Sports Premium Funding for sports and fitness equipment is one of the best investments you can make to keep your students healthy!
Our range of exercise equipment promotes a range of fun and practical methods to stay fit and active in line with the physical education national curriculum. Some of our favourite items are:
Tai chi discs, designed for coordination, focus, and relaxation.
Double strength challenge that promotes social interaction while working to stretch the arms and shoulders.
Arm and pedal bikes aimed to improve balance and flexibility through cardiovascular exercise.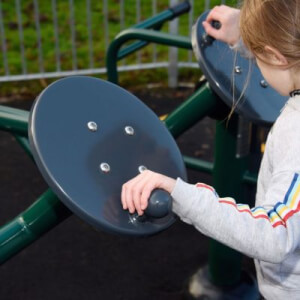 These are just a few of our selections, you can discover your own favourite by browsing our full catalogue [pdf]. Or, to easily select a fully effective outdoor gym area tailored to what your school playground needs for kids' gym equipment, take a look at our gym packages.
Playground Safety Surfacing Fall Protection
We all know that slips and falls can happen on any playground, and we naturally want to reduce harm and regularity for our students. Effective playground safety surfacing is a vital tool to help make your playground safe.
With playground equipment such as our amazing active play clamber stacks and trim trails, appropriate fall protection is a necessity. Our safe grass mats provide protection that absorbs the impact to reduce the risk of injury from an assortment of heights.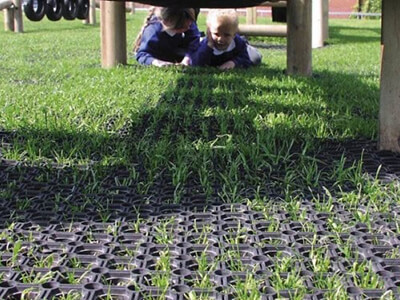 Our wide range of rubber safety surfaces is perfect for any playground to keep your kids safe from harm. Check out our full range of vibrant and customisable rubber safety surfaces here, these rubber surfaces offer:
Protective impact absorption
All-weather protection
Drainage capabilities for any quality surface
Eco-friendly rubber made from up to 90% recycled material
Noise reduction
Slip resistance
A variety of colours and patterns
Protection from wear and tear in heavy traffic areas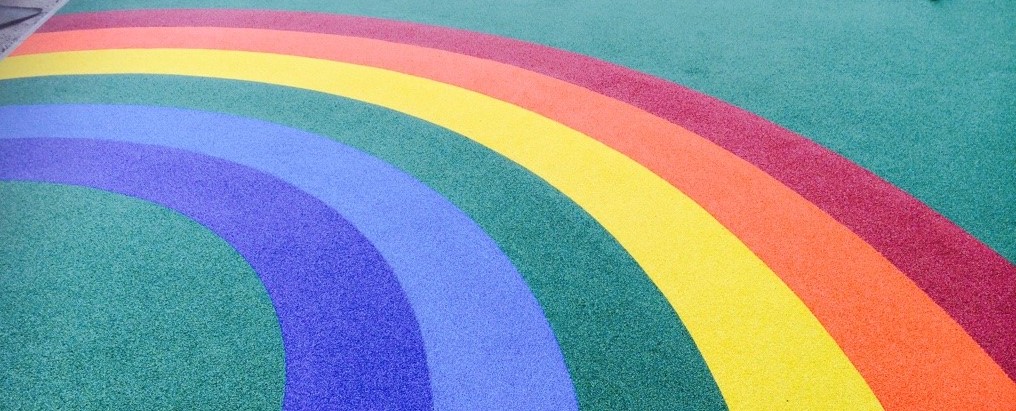 Book an appointment with one of our playground experts and we'll be able to match your needs to the best option for your school playground.
Maintaining Playground Safety
The School Playground Company is dedicated to providing the best quality in terms of safety as well as innovative playground equipment.
We aim to help all of the sites we are involved with to meet guidelines for your outdoor risk assessment for early years learning, key stage 1 or 2.
Our high-quality durable materials and dedicated team for repairs and refurbishments to all equipment, even if it was not installed and designed by us.
Materials
All of our materials are designed for longevity and durability, providing long-term protection and safety for many years of fun play for students of all ages. Our outdoor classrooms and shelters offer a fantastic range of protective materials, notably our premium Playguard Radiata timber shelters and gazebos with options for a customisable, multi-coloured polycarbonate roof or Perspex canopy. All of our wooden shelters are finished with kiln drying and sanding treatments for a smooth and splinter-free finish. Discover your options in our comprehensive guide to outdoor classrooms [pdf].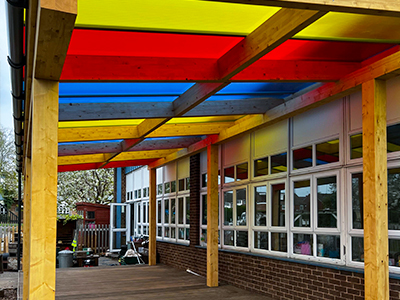 All other wooden playground equipment including our trim trails and clamber stack climbing equipment are similarly built with quality timber and rope materials. Our amazing team has in-depth knowledge of how to provide the best fit of equipment for your school, providing safe fun in the long term.
Upkeep
We recommend regular repairs and refurbishments to all playground equipment and surfacing to ensure health and safety guidelines are followed. As children play, run, and enjoy your play area, favourite equipment and playground areas can become faded and worn even with our high-quality materials.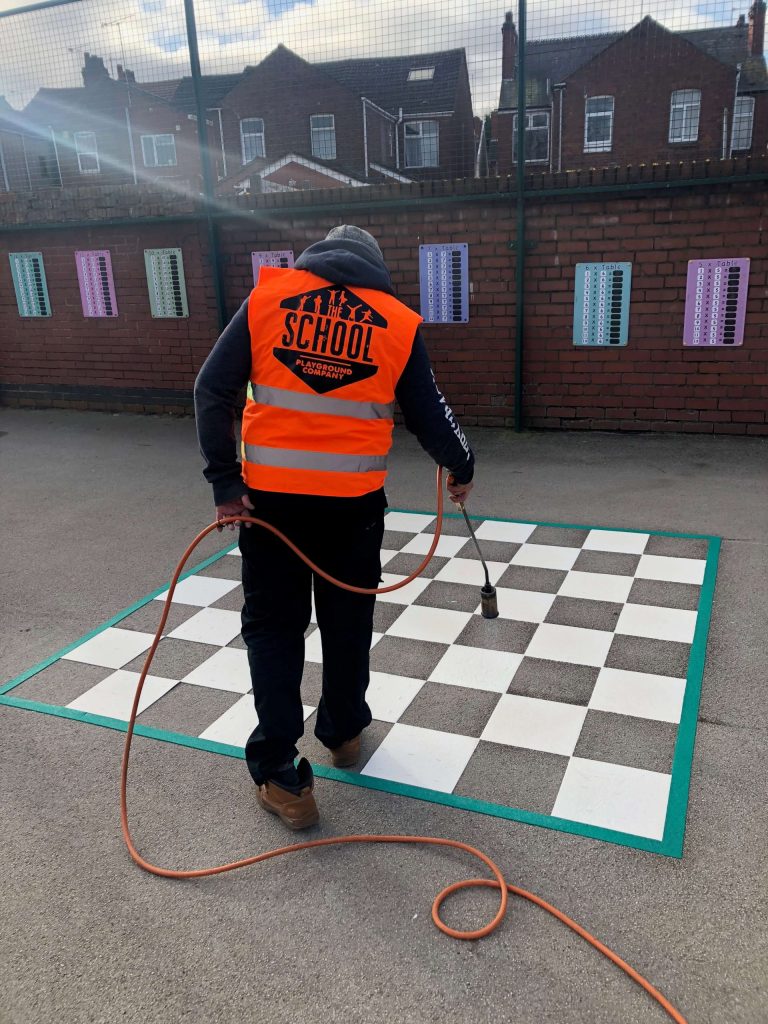 Our expert team provides refurbishment and repair services including:
Removal of unsafe items
Repairs and cleaning to all types of safety surfacing
Replacement of worn component parts
Re-painting timber and metalwork
Re-marking of faded playground markings
Keep your playground Safe and Active with the School Playground Company!
Revamping your school playground space has never been easier than with the expert consultation, installation, and aftercare services provided by our team.
Contact us today! Just call 01455412134, email us at info@schoolplaygroundcompany.co.uk, or book an appointment with our handy contact form and our team will be happy to talk you through your options.