We provide a comprehensive range of School playground safety surfacing. The School Playground Company can offer advice and a free no obligation quotation for all types of playground flooring.
With so many options of synthetic surface, which is the best choice for your playground?
Types of School Playground Safety Surface:
EPDM Wetpour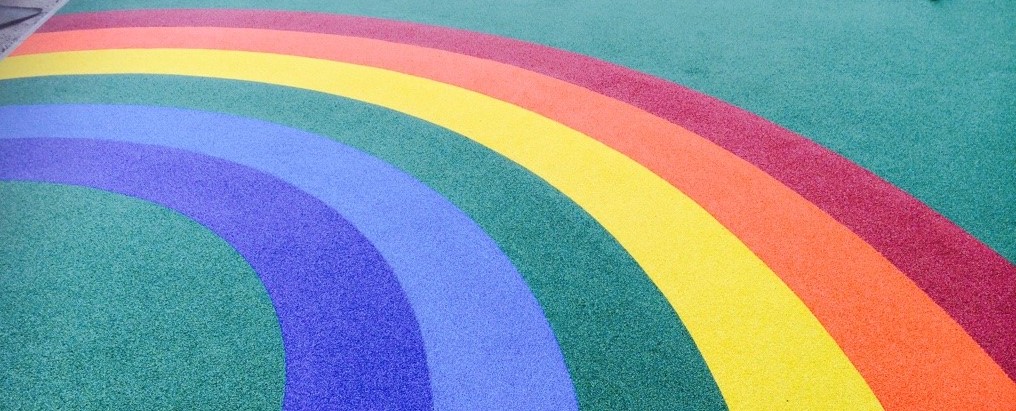 Wet-Pour surfacing is one of the most popular choices of playground safety flooring in our range. Often referred to as rubberised tarmac, we mix this on site using EPDM granules and a high strength binder. Once the soft surfacing is laid, it cures to form a strong impact absorbing surface.
Benefits of Wetpour Rubber
If you are looking to use brightly coloured school playground safety surfacing, Wetpour is a perfect choice. We can lay this supply and lay EPDM Wetpour in many colours. We also have skilled wetpour installers that can lay colourful graphics into your playground design. Examples of our most popular designs can be view on our gallery page.
Wetpour is extremely porous, so makes it perfect for areas that can become wet and boggy in your school playground. This also makes it ideal when creating an all weather playground space.
Do you want a low maintenance playground surface? If so, Wetpour is a fantastic choice. Once laid, this surface requires very little up keep. We provide aftercare and maintenance instructions for all of our authentic playground surfaces.
Contact us to get a quote for Wetpour Surfacing for your Playground..
Rubber Mulch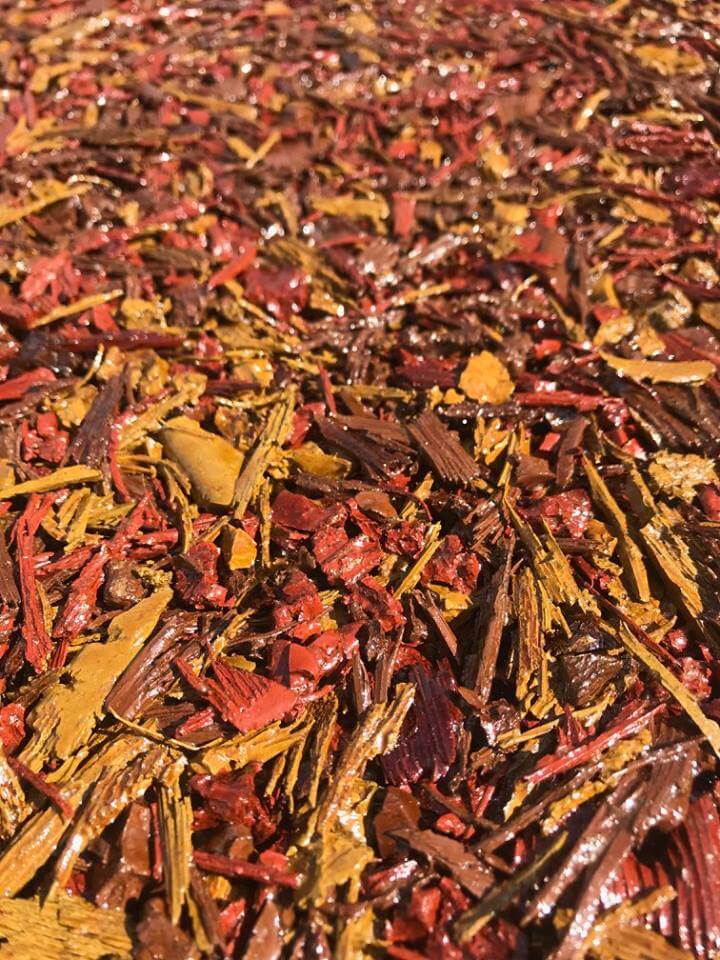 Often called Resin Bound Rubber Mulch and branded with different trade names, this is a popular safety surface in Primary Schools and Academies. if you want to achieve a natural look and appearance without the usual maintenance issues, this choice is perfect for you.
This surface is made using recycled car tyres which are then shredded into rubber bark like shreds. The rubberised bark is then put through a specialist colour coating process. We recommend using our natural colour blends as the coating will wear over a period of time – depending on levels of traffic.
Benefits of Rubber Bark
Our Rubber Mulch Surfacing is thick, strong and very flexible, which makes it the perfect solution around trees. Its a great solution in areas of the playground which there are areas of erosion around trees. Examples of our most popular designs can be view on our gallery page.
Like all of our synthetic playground surface range, Resin Bonded Rubber Mulch is porous. In fact, due to its shred like texture, it is the most porous playground surface on the market.
This in a similar way to Wetpour Rubber. We mix the Rubberised bark like material with a specialist binder and then our team trowels by hand onto a prepared sub base of stone. The surface can also be laid directly over an existing playground tarmac or concrete.
Contact us to get a quote for Rubber Mulch Surfacing for your Playground..
Artificial Grass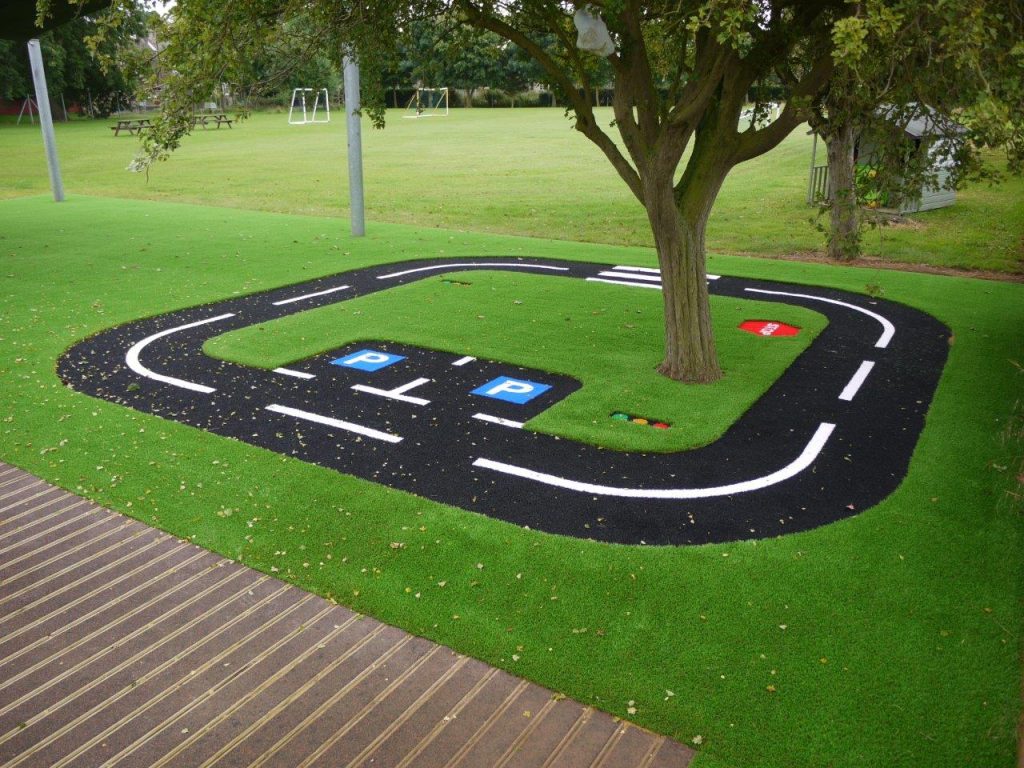 Artificial grass is quickly becoming more and more popular as a choice of playground surfaces in Primary Schools, Academies and Nurseries. Our range of specially developed playground grass has the appearance of real grass, with all the benefits of a synthetic playground surface.
Our team of playground installers are able to lay the fake grass surfacing in almost any type of shape. We can offer a range of different pile heights to suit different playground settings.
Benefits of Artificial Grass
If you are looking for an all weather playground surface, synthetic grass is a fantastic choice. We can help you transform unusable muddy areas of your playground with new fake grass surfacing. When laid, the pile of the play grass give the surface anti slip properties, which is important when the weather gets frosty. Examples of our most popular designs can be view on our gallery page.
The artificial grass is produced with a hole punched backing, which lets water freely drain through the surface. When we install synthetic grass directly onto existing playground tarmac, we supply and fit a 10mm foam shocked to allow vertical draining.
Once we have installed your artificial grass surfacing, it requires very little aftercare. We supply and lay a specialist type of sand which sits in the pile of the artificial grass. This sand protects the grass fibres and also keeps the pile stood up to maintain a longer lasting grass-like appearance.
Contact us to get a quote for Artificial Grass Surfacing for your Playground.
Grass Mats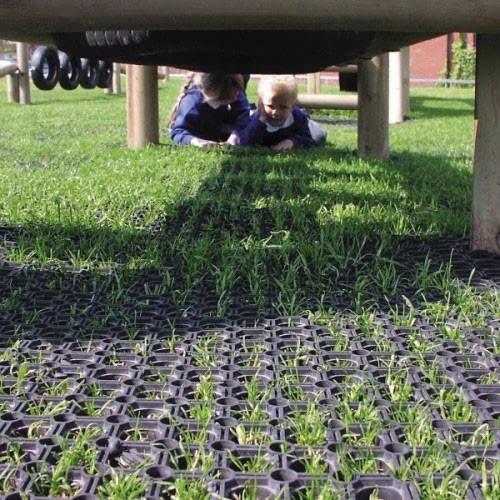 Safer Grass surfacing also know simply as grass mats are the most cost effective form of school playground safety surfacing. Manufactured from rubber, they are laid directly onto established playground grass.
Our team of playground installers, tie each 1, x 1.5m rubber mat together using cable ties and then peg the edges into a channel cut into the turf. The edge is then bedded down to ensure no trip points in the playground.
Benefits of Rubber Grass Mats
If you are looking for a budget playground surface option, the grass mat system is the best. The mats require little or no ground work prior to be installed. They allow the existing playground grass to grow through the mats, giving a natural finished visual appearance. Examples of our most popular designs can be view on our gallery page.
Our playground installation team, will lay a stabilising mesh directly onto the existing grass to ensure the larger rubber mats do not sink. The mats will then follow the existing ground level. We commonly use these mats to prevent areas of soil erosion to low level climbing frames and trim trails.
The safer grass tiles can easily be cut to fit around existing play equipment. Our grass mat system is tested to achieve a critical fall height (CFH) of up to 3m*. They can be easily installed onto flat or sloping surfaces. *The Critical Fall Height of this product will depend on the soil type, moisture content and condition of turf. Therefore, it is essential to check with your installer the suitability for your application.
Contact us to get a quote for Grass Mat Surfacing for your Playground.
Play Sand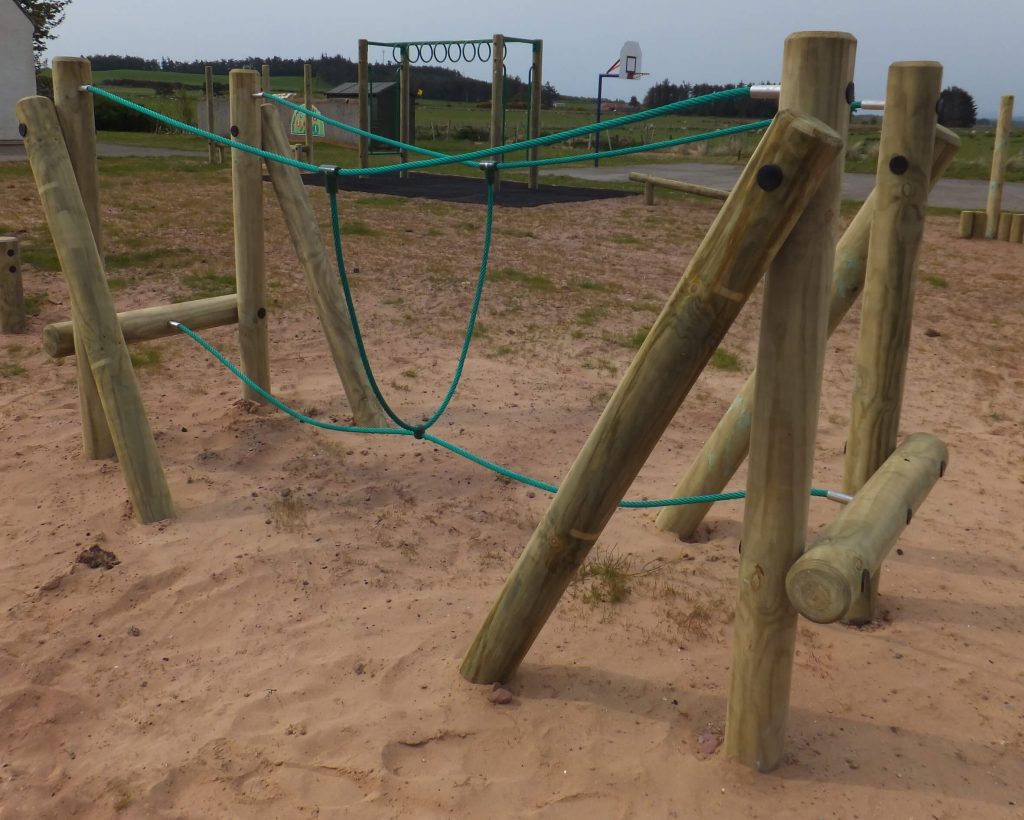 We are able to supply or supply and lay play specification sand for your school playground. Play sand is extremely popular, especially in Nursery and EYFS playground settings.
Play sand is a tactile play medium and can also be used as an effective safety surfacing around school playground equipment.
Benefits of Play Sand
Playground sand can offer huge stimulation to children as a play medium alone. Mixed with water as part of a sand and water play range is extremely popular in EYFS and Key Stage 1 play spaces. Examples of our most popular designs can be view on our gallery page.
Play sand can be very cost effective when bought in larger amounts and requires only very minimal ground preparation in order to retain the sand – in a sand pit. We are able to build bespoke sand pits to suit any space and budget.
Unlike synthetic surfaces, this product does require daily aftercare in the form of a visual inspection. The School Site Manager may have to continually top up the play sand on a frequent basis (dependant on use)
Contact us to get a quote for Play Sand Surfacing for your Playground.
We offer a free no obligation advice, design and quotation service. Contact us to discuss your next School Playground Project or click here to book an appointment with a member of our team.