It can be difficult to know how to keep children safe and happy when they are running around, jumping and playing on the school playground. Luckily, here the School Playground Company, we have some ideas of how you can best help your kids this year.
Staying Active
We all know that keeping kids active is crucial for their healthy development and enjoyment of school. Expending energy through active play helps young people stay in shape, develop coordination skills, and stay focused in class.
Active play equipment for clambering, jumping, and balancing is a great way to get the whole body moving! Our range of school playground equipment includes a wide size-range of collaborative outdoor play equipment including: trim trails, clamber stacks, climbing towers, play frames, and climbing walls. These are all professionally and reliably installed with options for maintenance on your schedule, with safety mats mandatory to protect children even further.
Structured team and individual sports improves communication and teamwork as well as acting on the whole body. Our Multi Use Games Areas (MUGAs) are a great space for kids to experiment with sport in a new way and discover their skills.
Our outdoor gym equipment, suitable to promote exercise for KS1 and KS2 children, puts focus on balance and coordination development. We encourage schools to mix-and-match their choices of kids' gym equipment to create a varied space for fun and active exercise.
The Daily Mile is an amazing international campaigns opportunity to keep kids active. Running or jogging for 15 minutes a day is a quick, simple, and safe way to improve children's health through aerobic activity. You can easily sign your school up to join in, and our Daily Mile track playground markings and surfacing options can help you prepare to get kids moving!
Inclusive Play
Keeping kids safe means keeping all kids safe, so we are proud to focus on providing inclusive playground equipment for all kids to play and have fun safely.
Providing safe spaces for children with 'invisible disabilities' where over and under stimulation can become an issue on a busy playground is essential for any school playground. Inclusive playground equipment with an emphasis on sensory play needs of children of all ages. This includes: bright coloured equipment; tactile, sensory play panels; musical play areas; and quiet areas for a more controlled environment.
For children with reduced mobility safe and accessible childhood play can be assured through providing extra layers of safety from which all children benefit. Coordination issues are common among young children, and conditions such as dyspraxia can put children at harm when playing if not provided adequate playground safety surfacing. Wheelchair accessibility is also a priority for any school space, so it is important to assess how well your surfacing choices and playground equipment layouts can be navigated by children with accessibility equipment.
You can find out more about our dedication to inclusivity on the playground here.
Safe Playground Surfacing
Tailoring your choice of safety surfacing to your student's play needs is vital to creating a successful space for safe fun for all.
A very popular choice for an accessible, low-maintenance playground safety surfacing with a variety of bright colours and bespoke designs available, this rubberised tarmac flooring provides a strong impact absorbing surface. In addition to being a great option for safety, it is also porous, preventing puddles to reduce risks of slipping even in wetter areas of the playground.
Creating a fun, all-weather playground surface is made easy with synthetic grass surfacing. Variable colours, designs, and pile heights allows for this surfacing solution to suit any needs, without the risks of stones, mud and unevenness on actual grass playground.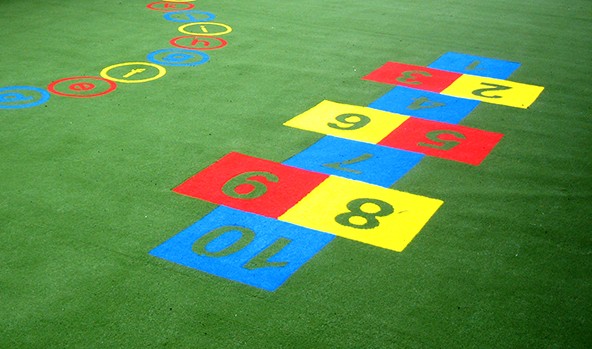 Bonded Playground Rubber Mulch surfacing is especially popular in primary schools as it provides a natural looking, but safer alternative to bark surfacing. Flexible and strong, this option is great to install around obstacles such as trees to prevent erosion at the base over time, while also covering roots which children may trip on.
Rubber grass mats is a cost-effective option to turn a larger area of the school field into safe play surfacing. With proper maintenance this makes grass areas wheelchair accessible as well as providing a brilliant cushioning effect to help protect children through their inevitable falls on the playground.
Keeping Warm
As children come back from their winter break, playground are still chilly and, as is often the case in the UK, damp! It is important to make sure kids stay safe and dry through proper clothing on the playground, with gloves, hats, scarves and good thick coats. As educators it is important to monitor where children's safety by taking these precautions and removing them from harm to avoid the cold indoors.
We offer a range of playground shelters to provide a warm space anywhere on your school playground. Many from our selection have full insulation, including double glazed windows where applicable, and even come with the option of heating connection depending on what you are looking for.
For advice on keeping safe on the Summer-time playground click here.
Mental Health
The mental health and well-being of students is a growing concern among school staff and parents, and is vital to consider in all environments at school and home. Schools can provide a space on the playground that fosters an environment to support kids' mental health as well as physically active and entertained.
Play and exercise for kids a great vehicle for mental health by stimulating the body and releasing endorphins which can change our mood. The mental and emotional benefits of active play are increased when done with peers. Gear like many of our dual and multi-user outdoor gym equipment provides many opportunities for conversation and competition through play and exercise to help young people connect and have fun.
Through providing many options for children of different abilities and interests is important to reduce feelings of isolation and encourages self-expression to allow unique skills and ideas to flourish. Creative and sensory and educational outdoor play equipment like our range of educational playground markings and sensory panels help children flourish through art and music, as well as maths, science, and storytelling.
Repairs and Refurbishments
It is important to keep your school playground up to scratch to prevent avoidable accidents. As your playground grows over years of children's' active play, repairs and refurbishments are vital. We are here to fix and replace damaged equipment, remove any unsafe parts, and make give your site a fresh coat of paint to make your playground as good as new.
In cold, rainy weather, even small cracks and scratches can quickly turn into larger holes which can cause a tripping hazard on the playground. It is therefore recommended to get repairs done regularly to not let small problems turn into big ones.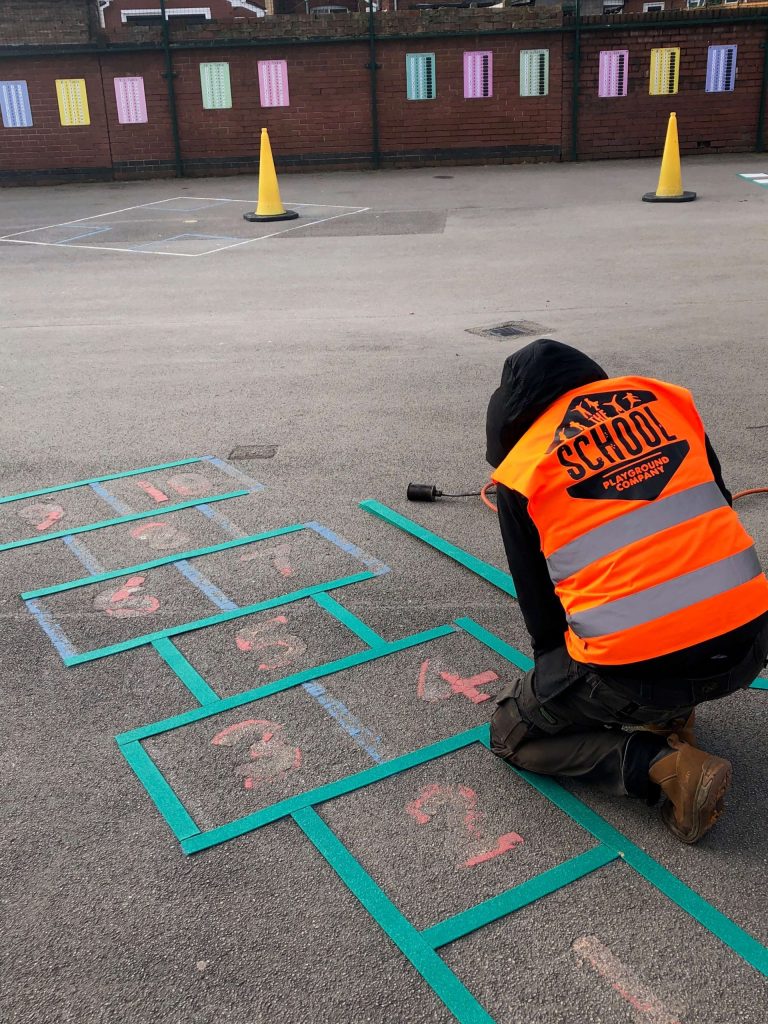 The School Playground Company provides repair and refurbishment services including:
Repairs to playground surfacing of all types
Replacing worn component parts of outdoor playground equipment
Removal of unsafe items
Re-painting faded playground markings
Cleaning safety surfacing
Re-painting timber and metal work
Provide a Holistic Play Environment with the School Playground Company
For more ideas on how to develop and grow your primary school playground explore our other blogs for some fantastic inspiration from the School Playground Company!
If you think our products are right for your playground, continue browsing our website, or contact us today. Call 01455412134, email us at info@schoolplaygroundcompany.co.uk, or book an appointment to discuss your options.