We hope all our clients have had a lovely, well-rested summer break, and that everyone is settled back into their routine now that children have returned to school. However, the return of school has got the team here at The School Playground Company thinking about how we can continue improving the quality of our products and playgrounds for the next school year.
Returning after summer gives you the chance to look at matters with a fresh perspective, and weigh up what could be improved in your school playground. We have dedicated today's blog to exploring various ways of improving playgrounds, with a focus on learning and development, which we aim to be champions of here at The School Playground Company.
1: Do I have enough educational play tools/equipment in my playground?
Learning through play is a useful tool for encouraging children's development, both socially and educationally. By including educational prompts in the playground, this can help children associate learning with fun activities, and encourage active learning. For this reason, we stock a range of educational playground surface markings that can be utilised for educational play.
Educational markings carry a lot of importance in the playground. They encourage learning outside of the confines of the classroom, facilitate socialisation as children use the markings to play with friends, and provide space for physical activity and educational play outside of the classroom – they're a great all-rounder!
We have a wide range of educational play markings that you can shop here.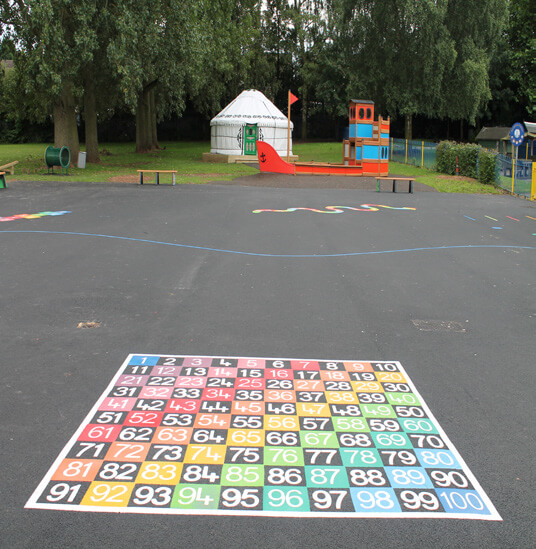 2: Is my surfacing up to standard?
An important aspect of maintaining a fun and safe playground is regular inspection of your playground. You must ensure that your playground surfacing meets safety standards, and a large part of that comes down to your safety surfacing. When this isn't up to scratch, it can potentially put children in danger of unprotected falls or unstable grounding. The School Playground Company recommends that you keep on top of your maintenance and regularly inspect your playground surfacing to be on top of any potential issues. After all, without a safety surface, you have no playground! More importantly, your playground being out of access whilst repairs are carried out on the playground surfacing means that children are missing out on play and valuable opportunities for learning and development.
We have created a list of our top things to look out for when inspecting your playground surfacing:
Any surfaces lifting at the edges or starting to curl? More commonly found with wet-pour surfacing, if not installed properly or well-maintained, it can start lifting at the edges or curling in on itself. The earlier you spot the problem, the easier it is to resolve. With regular and proper maintenance, your playground surfacing should last through its guarantee period.
Any damage or missing parts to your playground surfacing? You may have noticed that some of your playground surfacing has come away as a result of extreme weather, wear and tear, or anything such. For example, your artificial grass might have some damaged blades, or your wood or rubber chips might be dwindling due to constant foot traffic. If you notice early on, you can save this from becoming a costly repair.
3: Do I have enough creative play areas/props?
Creative play comes with a whole host of benefits, not least to mention nurturing a child's emotional well-being, sensory stimulation, and the opportunity for inclusive school playground equipment. The School Playground Company encourages assessing your playground and ensuring you have enough creative play equipment in order to encourage children's learning and development.
As discussed at the start of this article, The School Playground Company is happy to help when it comes to assessing your school playground equipment and what it needs for improvement. We'll list some of our top picks for creative play ideas here, but don't forget, you can always contact us and we're happy to talk you through anything you would like answering!
Are you stimulating the senses? Sensory stimulation is very important and has a multitude of benefits, including the development of motor skills, language skills, problem-solving skills, and cognitive growth. Not just to mention its learning and development attributes, it's also a fun and exciting break from normal lesson plans, and will encourage children to explore new methods of educational play. There is lots of sensory equipment available, which includes musical equipment, sandboxes, water play, play panels, and so on. Consider evaluating if your playground has enough, if any, sensory equipment play activities – it will hugely benefit the children using your playground to implement more sensory equipment into the playground.
Are you incorporating creative play into your lessons and break times? It may come as no surprise that children learn and are influenced by adults, which you can use to encourage their learning and development. By including opportunities for creative play, it encourages children to explore play through a new lens. You can do this by incorporating sensory play into your lesson plans, or encouraging children to use the sensory school playground equipment during play-time.
4: Is My Playground Inclusive Enough?
Wheelchair-accessible surfacing. Oftentimes, playground planners might not think to consider the implications of who can access the surfacing they choose for their playground. However, this can mean that children in wheelchairs, on crutches, or with mobility issues won't be able to access certain surfacings, which can include steps, uneven footing, wood chippings, and unmaintained grass to name but a few. You should ensure your playground is smooth, flat, and easy for anyone with any mobility issues to access.
Catering for sensory processing issues. It's important to remember to consider not all children have the same processing capability, and children with sensory processing disorders (for example Aspergers and autism) need adjustments that other children might not. Sensory school playground equipment is perfect for this, as it helps engage their senses and ground them in a task they can focus on. Additionally, consider putting in areas for rest and quiet away from the busiest and loudest areas of your playground. This could be a secluded corner with some greenery, outdoor classrooms, or a hut or shed. Some children can become overwhelmed by all the noise and movement of a playground, and it will be helpful for them to recalibrate in a more secluded and quieter area where they are not in sensory overload. You can browse our range of outdoor structures here.
What Next?
If this article has inspired you to carry out some playground improvements, why not contact us to see how we can help? We have a wide range of school playground equipment and years of experience, and we'd be happy to help you build the perfect playground to encourage learning and development. Simply contact us and we'll be back in touch ASAP to help transform your playground!