Why is the addition of Outdoor Gym Equipment a great idea for your Primary School?
Our range of outdoor gym equipment is becoming increasingly popular across many Primary Schools.
It's no secret that schools must encourage children to take time for outdoor exercise! Therefore outdoor fitness equipment is the way forward for providing primary school children with much needed physical development opportunities.
Our primary school fitness equipment boasts both fun and practicality when it comes to promoting exercise amongst KS1 and KS2 children. Making it the perfect use for your Sports Premium Funding!
As well as providing a fun fitness alternative to regular outdoor play, our outdoor fitness equipment also provides a range of benefits for KS1 and KS2 children. This includes both improved balance, and coordination!
Additionally, our children's product range excludes strength building equipment. We believe that strength training/ muscle building shouldn't be for children. We're all about keeping it fun!
But it doesn't stop there! Our multi-user pieces also go a long way to encourage friendships, by helping to improve communication through promoting social interaction.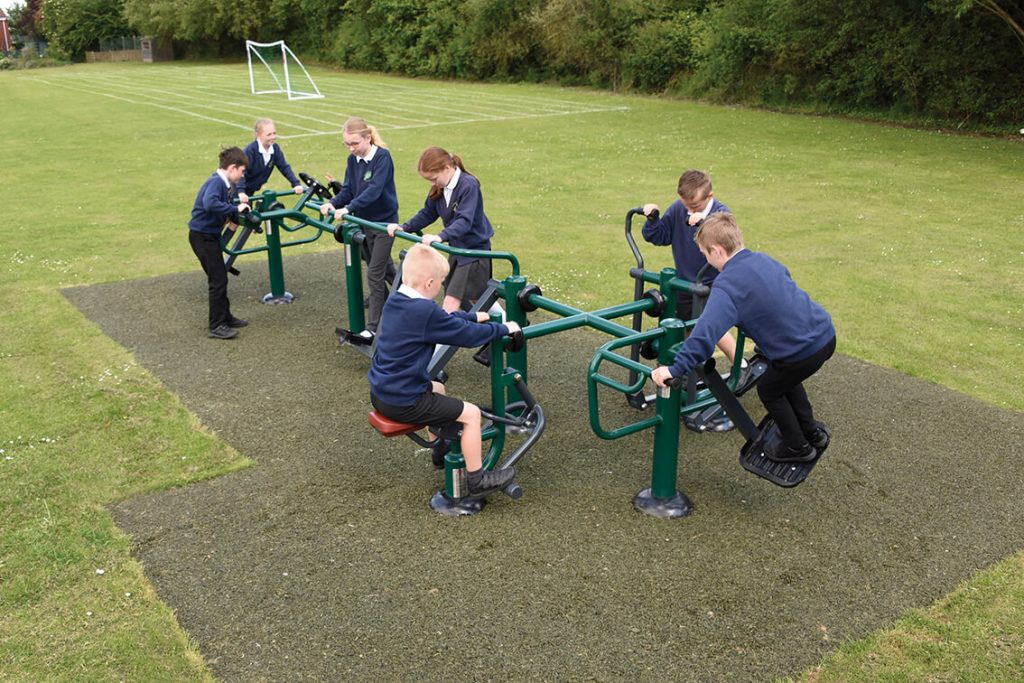 We offer various packages for specialised fitness goals; for example, the Social and Physical package encourages pupil interaction and motivation. However, it's sometimes preferable to our clients to go down the 'mix & match' route, tailoring their own package.
How to use your Outdoor Gym Equipment
Here at The School Playground Company, we believe that the younger you introduce exercise the better the outlook. Children who engage in regular exercise from a young age are much more likely to carry on as they transition into adulthood.
Our 'Children's' Outdoor Fitness Equipment' is specially designed exercise equipment which is to be used by children under 140cm in height.
This includes children who are in KS1 and KS2. These children range from age 4-11. The older children in this range will more than likely enjoy the idea of these exercise machines, without any further encouragement.
The outdoor fitness items can be included as part of a PE lesson plan. Contact us for advice on how to build Outdoor Gym items into your lesson plans. We think its vital to encourage the children to talk about their health and fitness and why it's important to exercise regularly.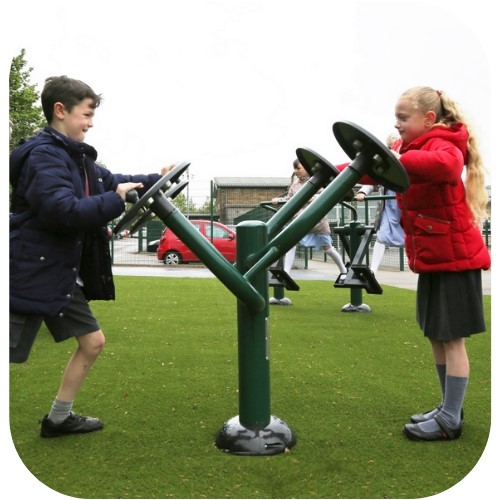 Individual items can either be installed as part of your schools daily mile fitness circuit, or in a group to encourage groups to exercise together.
SPC Tip: Create a user group timetable, which will allow all classes to access the equipment at structured times and days during break times.
Do I need Safety Surfacing under my Outdoor Gym Equipment?
No, you do not necessarily need to provide playground safety surfacing under each item of children outdoor fitness equipment. Our equipment conforms to the latest TUV Standards looking forward to the new BS EN 16630 Standard. This standard is specifically for permanent installed outdoor fitness equipment.
We can install your outdoor gym equipment into most existing playground surfaces including tarmac and grass. Our advice would be to always recommend some form of surfacing onto existing grass to prevent erosion, which can lead to future maintenance issues.
Many Schools do choose to install one of our types of synthetic playground surface under their new equipment. We can help transform or extend existing playground space by adding an all weather surface to your new fitness area.
We offer a free no obligation advice, design and quotation service. Contact us to discuss your next School Playground Project or click here to book an appointment with a member of our team.