Creating inclusive outdoor play environments should be at the forefront of any playground development project. Outdoor play helps all children understand the world and each other through social, imaginative and creative activities. This opportunity for fun and development should be accessible and inclusive of all children.
Accommodating and appealing to SEN children requires inclusive playground equipment and facilitating different types of games and activities that promote inclusive and stimulating play. As playground experts, we are here to provide direction and inspiration for you to create a truly inclusive play space.
Types of Fun Activities for SEN Children
Specialised SEN toys and tactile games are key to SEN play provision. These accommodate different styles of learning and involve different skills that appeal to different forms of interaction and play.
A variety of different play equipment accessible to all children encourages self-directed and exploratory play known as free flow play. This is the best way to create a truly inclusive and accessible play environment, giving kids the option for play that best suits their skills and interests.
However, there are specific types of play that are recommended for developing SEN playgrounds. This includes sensory play activities, role play, and different levels of physical or active play.
Sensory and Role Play activities for SEN children can be self-directed or adult-led depending on the child, but are aimed at inspiring creativity and encouraging curiosity about the world around them. providing space on the playground for different learning focuses and play types allows all kids the opportunity for self-expression and to fully enjoy the great outdoors!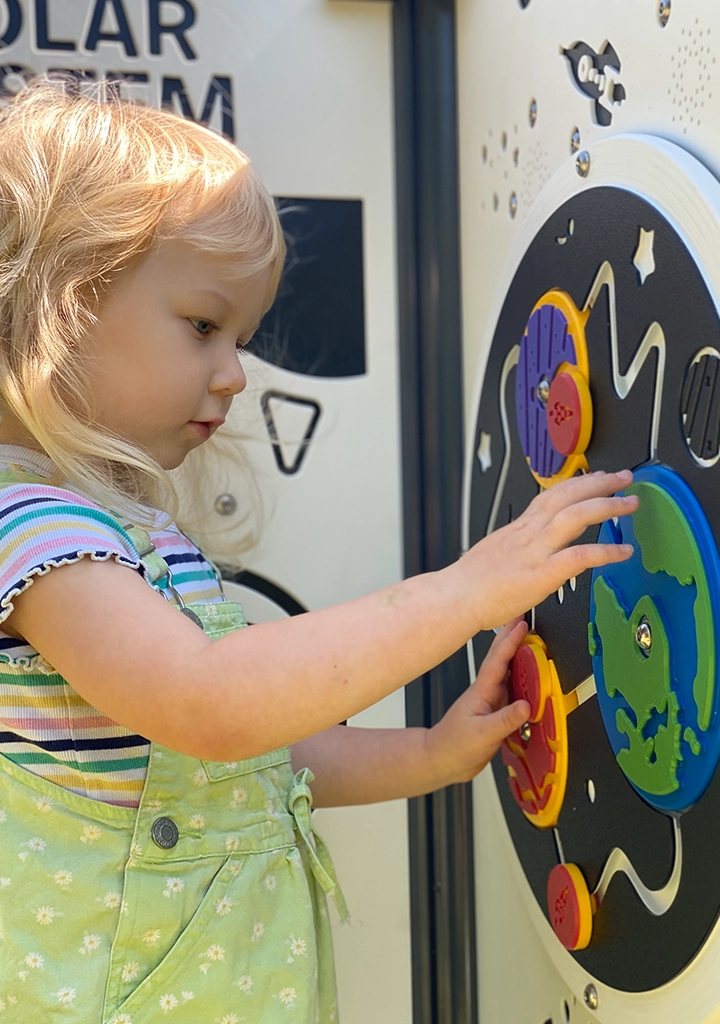 Sensory Play Activities to Explore the Senses
Sensory, imaginative, and creative play equipment provides a basis for non-conventional forms of play that children with autism and learning difficulties often find appealing. Incorporating movement, sound, and colour into your inclusive play area with play panels, sensory circuit equipment, and outdoor sensory walls creates a whole new range of experiences for students.
Sensory games involving tactile play panels and water wall equipment provide a different set of challenges and stimuli for kids than traditional playground equipment. Fine motor skills are able to develop naturally through interactions with sensory panels' spinning dials, moving blocks, and solving puzzles in a variety of ways.
A sensory garden or play area gives kids the opportunity to work together or engage in parallel play as different forms of socialising and bonding with peers. Allowing kids to explore their senses in a safe environment in new ways different from typical rigid methods of directed learning that SEN kids may struggle with.
Mark-Making and the Importance of Art Activities for SEN Children in School
An important aspect of free flow play to inspire inclusive play and creativity in schools is providing the space for self-expression. Art in schools shouldn't be limited to paint-by-numbers activities in the classroom. Outdoor giant chalkboards, whiteboards, weaving panels, and painting stations as part of an arts and crafts play area create a fun art area for all sorts of mark-making ideas and activities to flourish.
Mark-making for SEN children includes exploring colour, finding inspiration from their surroundings, or simply having fun with messy play. Mark-making can be an especially beneficial activity for nonverbal autistic children or any child experiencing confidence or communication issues. Finding alternative ways to relate to other children, express their personalities and wants, and have fun is something all schools should encourage in multiple ways.
The benefits of creative play in early years education for these children is a crucial way to create feelings of safety and confidence in themselves as they begin to interact with their peers and adults more as they enter schools. A quiet creative area or noisy fun messy play kitchen area with musical play panels and non-staining surfaces can become places SEN children can feel comfortable expressing themselves and letting off steam away from the classroom environment.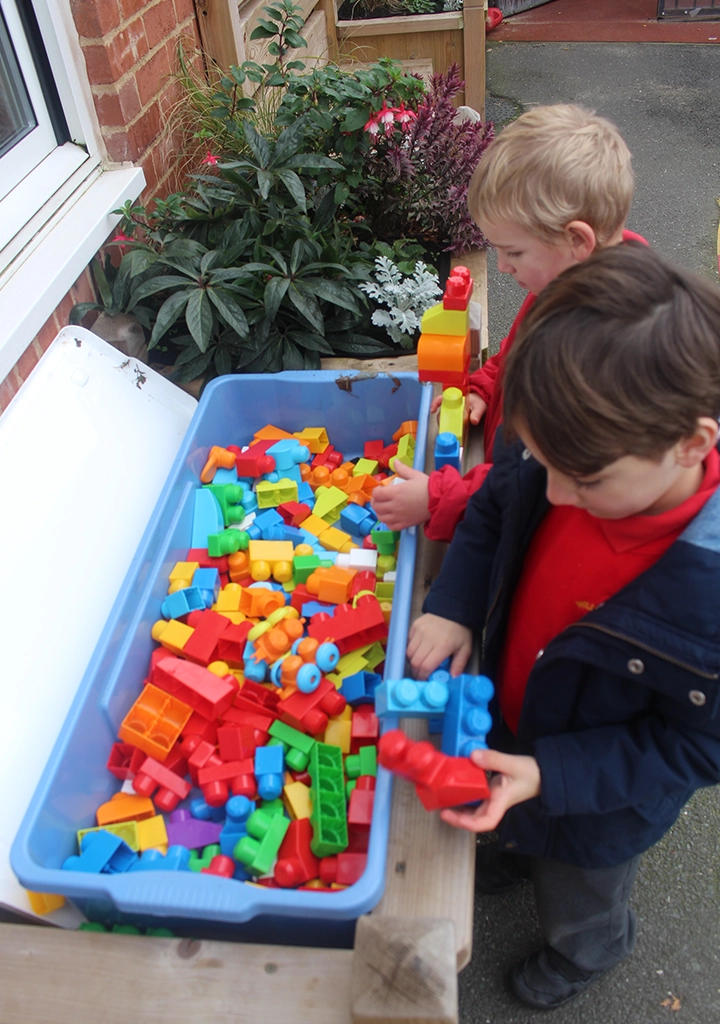 Role Play Equipment for Imaginative Activities
Role play activities are a great way to encourage kids to build social skills and experience all the benefits of cooperative play. Role play panels can inspire new forms of games that inspire imagination and develop communication skills.
Role play shops can be tools to facilitate a greater understanding of the world and fine motor skills development. Working together in a pretend transaction is a favourite activity of many young children, allowing them to express their thoughts and use maths skills independently. With prompting from a role play panel as a framework for play, children can immerse themselves in a repetitive or varied task at their will, providing stimulus based on healthy interaction with peers and utilising different areas of learning together easily in one task.
Incorporating role play and imaginative play activities into EYFS lesson can also be a great new way to benefit learning for children that thrive in more tactile, hands-on environments. Constructing a play stage out on the playground to act out what is being learned in cooperation with other kids. Children can act out stories from English class, or even play pretend to better understand other subjects through movement: grouping up to mime orbiting planets in the solar system or jump around acting out particles being heated up and cooled down into different states of matter.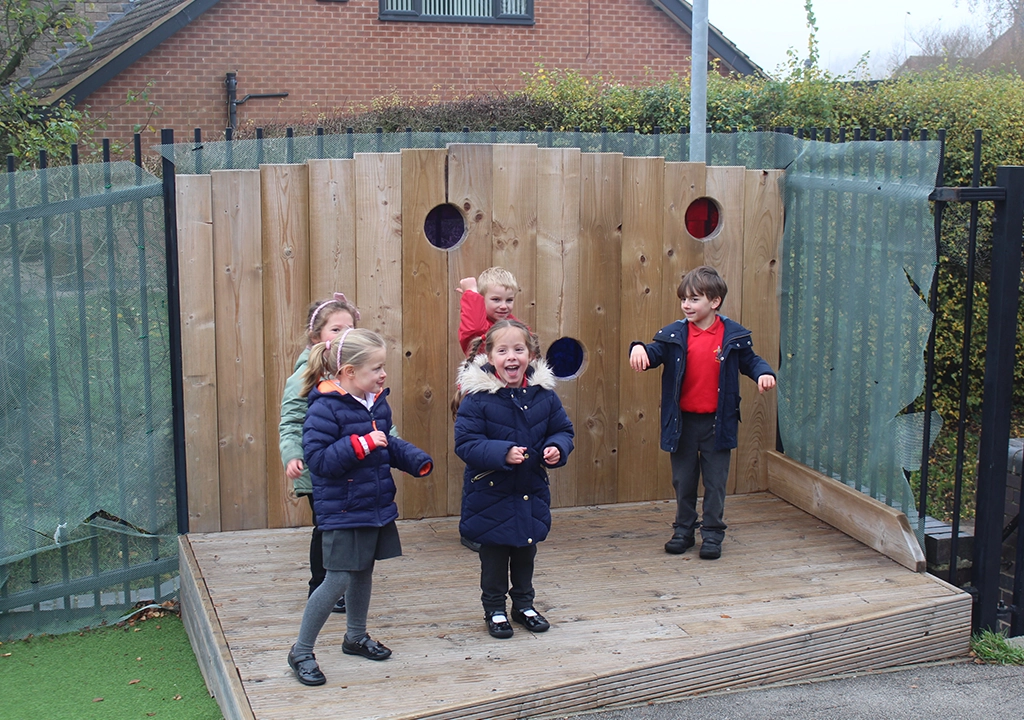 Safe, Accessible, Fun Play Environments for All Children
Here at the School Playground Company, we strive to help you create a play space that your students will love. Giving them all the tools and play equipment to have fun at their own pace and to discover inspiration and creativity through play.
Get in touch today to begin your journey to your new play area. Fill in our contact form for a call back to discuss your options or request a Free Quick Quote from our play equipment experts by clicking the contact button at the top of the page.